Bill Lowe performs Ed Bullins' 'Street Sounds'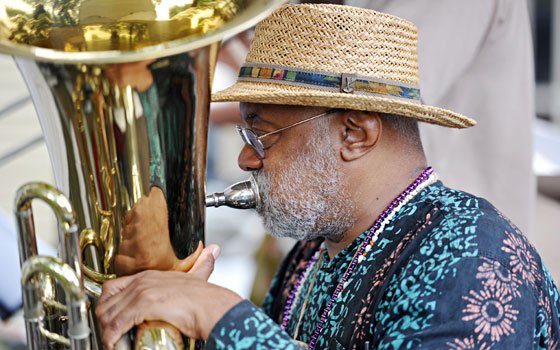 The original script of Ed Bullins' "Street Sounds: Dialogues with Black Existence" consisted of 40 monologues portraying life in the inner city and was first performed at La Mama Experimental Theater Club in New York in 1970.
Noted musician Bill Lowe has selected some of the most relevant voices from the script and infused them with his original music for performances at Hibernian Hall on Jan. 21 and 22.
 Bullins is an African American playwright from Philadelphia who has written more than 100 plays. His work consistently explores African American's social identity through an urban lens.
Bullins knows the story all too well. He was a high school drop out who educated himself through reading books while in the Navy. His love of reading motivated him to return to school after serving four years. After he left the Navy, Bullins got his GED and moved to California to continue his education. He received his bachelor's degree from Antioch College in 1989 and his master's from San Francisco State University in 1994. Later he became a professor at Northeastern University. His best known works include "Clara's Ole Man," "The Taking of Miss Janie" and "Goin' a Buffalo."
A week before the show, the Banner got a chance to catch up with Lowe, a bass trombonist and tuba player to talk more about why it's important to revisit Bullins' work. Lowe was born in Pittsburgh and grew up in New Jersey. He's a former journalist who was smack in the middle of the Newark, N.J., riot of 1967 while he was covering it for the "Trentonian."     
Lowe has spent his life merging his love for music, language and education into a successful career as a professor, producer and composer.
 Lowe has worked with musical legends Dizzy Gillespie and Eartha Kitt and has co-led the Boston Jazz Repertory Orchestra and the Bill Lowe/Phillipe Cretian Quintet. He has also co-produced Boston's annual John Coltrane Memorial Concert.
He's composed several major works, including his opera "Reb's Last Funeral," his ongoing interdisciplinary project "Signifyin' Natives" and the music/theater piece "Crossing John at the Crossroads."
As an educator Lowe has taught at several major universities, lectured throughout the world from Cuba to Paris and mentored countless young musicians.     
In his spare time, the gifted musician can be found in Dorchester helping young kids bridge the gap between jazz and hip hop in a program called "Riffs and Raps" co-designed by saxophonist Arnie Cheatham.
What attracted you to this work?
Bullins is an iconic figure. As a composer, musician and academic I was looking to find a way to present iconic art and make it relevant to youth. I like to think of myself as bridging gaps.
The play was performed in the 1970s, so there's dialogue in there that reflects the happenings of the time, but also reflects how they communicated.
In school, they taught us all Shakespeare because he had universal things to say. The same with Bullins. I asked myself, what, if anything, about our existence is still the same?