'American Idiot' comes to the Boston Opera House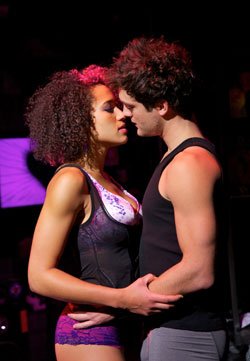 "West Side Story" had Anybodys. "American Idiot" has Whatsername. "West Side Story" fans know that tomboy Anybodys moves from a Jets groupie to a genuine gang member trying to safeguard Tony.
By contrast, Whatsername grows from a drug-taking girlfriend to a liberated woman taking steps to determine her own destiny.
Gabrielle McClinton, who is playing Whatsername on the national tour of "American Idiot," recently spoke to the Banner about her budding career, her plum part, and the Broadway hit, which runs at the Boston Opera House Jan. 24-29.
If Whatsername eventually begins to carve out her own life's journey, McClinton has already begun to do the same. A graduate of both the Los Angeles County High School for the Arts and Carnegie Mellon School of Drama with a BFA in music theatre/acting, the 22-year-old Los Angeles native — now based in New York City — already boasts an impressive resumé.
Her musical credentials include such shows as "Annie," "Hairspray" and "The Music Man" at MUNY in St. Louis and "West Side Story," "Oliver" and "The Producers" at Pittsburgh Civic Light Opera.
Her favorite prior to the national tour was "The Producers," in which she sang and danced in the numerous ensemble sequences.
 "We were on stage a lot," she said. "We had a lot to do. It was really thrilling."
At Carnegie Mellon, she performed in "Floyd Collins" and "How to Succeed in Business without Really Trying" and even acted in the Suzanne Lori Parks play "In the Blood" and "A Midsummer Night's Dream" (the fairy queen Titania).
Very committed to developing her talents in musicals and plays, she has had master classes with the likes of composer Steven Schwartz ("Wicked") and actors Phylicia Rashad ("A Raisin in the Sun") and Patrick Wilson ("The Full Monty").  McClinton has also studied such dance styles as ballet, African, jazz, modern and tap.
"American Idiot," as her debut in a national tour, marks a new challenge for the busy young performer. Speaking of the role of Whatsername and the musical, she observed, "It's a really intense journey (for her character among others). It's super intense. The emotions are at their fullest intensity at all times."
Make no mistake about McClinton's responses to the challenge. She is fully embracing the experience of the tour. "I'm learning new things about her (Whatsername) every night," she says.
McClinton gives high marks to Whatsername. "She doesn't care what people think," she noted. "She's so liberated and so passionate. She gives herself to others and she cares a lot."
At the same time, she added, "There are so many different levels. She's so hurt. She does love Johnny."
When Whatsername's boyfriend Johnny remains addicted to drugs and unable to break free from them, she realizes that she must set forth by herself. "I think a lot of girls will relate to this," she said. "She's trying to be so strong [in the Green Day songs "Know Your Enemy" and  "21"]. It's nice to have female power by the end of the show. Johnny is not really scared of Whatsername but he sees she has this great force."