Boston's First Night attracts revelers from across New England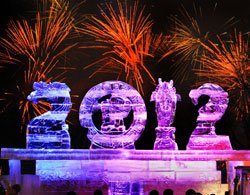 It was New Year's Eve and Tamika Brighton, 20, trekked from Roslindale to the Boston Common all decked out in LED bunny ears that transformed into every color of the rainbow. Her boyfriend went along, too. He wore a pair of oversized glasses that blinked 2012.
In its 36th year, First Night, the country's oldest and largest New Year's Eve arts festival, seemed to be a huge success. Though the city was shrouded in mist and clouds, it was unseasonably warm. The good weather and full day of planned events brought thousands of Bostonians and New Englanders into the city. From Fenway to the Waterfront, more than 1,000 artists in 200 exhibitions performed to crowds.
Vendors sold LED-powered hats, cotton candy, hand-held lights, fried dough and sausages, and countless more New Year's products. NECN broadcasted live, sending announcements and music throughout the park. Just over the hill, ice skaters performed on the frozen Frog Pond, while sculptors carved frogs and images of Puerto Rico out of ice.
A crowd of more than a few thousand filled the park, contributing to the energy of the night with noise makers and vuvuzelas blaring over everyone.
"We've come the last four or five," said Tyson Bolling, 39, of Cambridge. He had his two sons with him to watch ice skating and fireworks at Frog Pond. His youngest, Chace, 4, sat on his shoulders to see over the crowds.
"I came last year with my aunt," said Briana Samuels, 14, from Malden. This year she was with her friend, Kiana Jones, also 14, from Malden. This was the second year for both of them to attend First Night. The pair didn't have an agenda, but just came to walk around the city and see what entertainment they could find.
First Night held 16 outdoor events, including fireworks at midnight. Inside, attendees could choose from three times as many events, mostly free. First Night organizers featured concerts by Suzanne Vega, comedy by Mike Daisey, a Tap Battle, Opera, Shakespeare and a poetry slam.
Even the Roxbury International Film Festival (RIFF) played a part in the evening's events. The festival screened four short films created by people of color: "Mish Mush," "On the Grind," "Their Eyes Were Watching Gummy Bears" and "Hit and Mrs," as well as a full length documentary feature film, "Everyday Sunshine: The Story of Fishbone" at the Hynes Convention Center.
RIFF organizers reported that the event was a success. "Collaborating with First Night Boston has provided a great opportunity to share the films from the Roxbury International Film Festival with new audiences," said Lisa Simmons, director of RIFF. "We are honored to be included in this historic and exciting annual event."
At midnight, the clouds were gone and the temperature was just above freezing as crowds of young adults ran to the Waterfront to catch the best view of the fireworks. Cars stopped and parked on the Seaport Boulevard, Congress Street and Summer Street bridges and people stood along the Harbor Walk, watching the sky light up green, blue, red and gold, screaming and shouting "Happy New Year!"