Sweet!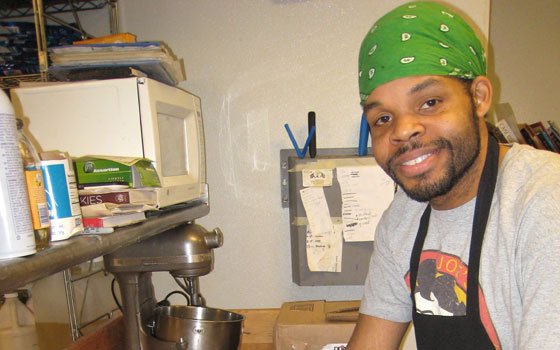 It was Elka who recommended Johnson for the Dudley cake project.
 Elka explained in a telephone interview that Shawmut Design and Construction, the construction manager for the Dudley Municipal Center project, has also been helping Future Chefs move into a new Boston space. When the city's planners began organizing the groundbreaking, they asked Shawmut to check with Future Chefs for a baker recommendation.
"They asked if we knew somebody that might want to make this cake," she said, "So I called Julius. I knew he was professionally accomplished and would enjoy this. I knew it would be a fantastic opportunity for him."
As Johnson recalls it, "I told Toni I'd be honored, and the ball was rolling from there."
Back to this week's countdown, Johnson said, "Tomorrow I'll bring in my Styrofoam mold and shape it to the cake I'll be baking." On Wednesday he'll decorate the inedible parts of the massive structure and create window details.
"The Ferdinand part has a bazillion windows," he has discovered — and conveying the color of glass with frosting is not easy.
Thursday night, he can start baking. No fancy flavors, just vanilla and chocolate. The whole structure can be created using square pans, he said.
Friday he'll bring the cake squares home and assemble the full structure there. The final three-tier creation will be about two and a half feet high. On the big day, he'll transport the cake — just a few blocks, but with utmost caution — to the indoor location across from the Ferdinand site where the cake will be cut. It could snow, but he's thankful it won't be hot—that's when cakes are more likely to melt or fall.
After the Mayor's initial cut, Johnson will start slicing and serving. His mother, who also lives in Dudley Square, and his sister, coworkers and other fans will be on hand to help or just to cheer him on.
Elka is confident he will pull off the project. "I don't think he would commit to doing something he couldn't execute. I have total faith in him," she said. "And what he's doing is one of our tenets at Future Chefs — you have to work outside your comfort zone, and do more than you've done before."
Johnson is humble, preferring to call himself "head baker" rather than executive pastry chef, a title he calls "frou-frou." But he is clearly proud of the work he does. That is not to say he hasn't had nightmares about how things could go wrong. But when he imagines them going right, it's a simple, satisfying vision: "First, the people responsible for wanting this cake are as excited about seeing it as I was about getting the offer," he said, gaze focused upward and hands gesturing expressively as he imagines the scene, "And second, everyone who eats it will enjoy it as much as I did making it."
As he posted on his Facebook page recently, "I may be baking a cake that will change my life."