Playwright Sulayman Al-Bassam tackles a universal quest in the age of Middle East dictatorships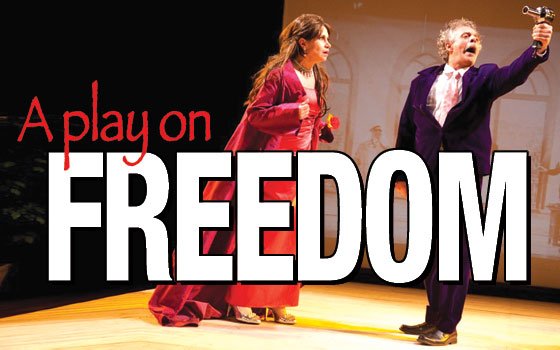 The nuanced staging accents the emergence of their humanity. Shadow puppetry simulates handholding (forbidden in public). Ribbons of smoke evoke a magical atmosphere. The sound design shifts from metallic abstraction to swelling melody as notes of romance seep into the performance.
Disguised as a young man, Amal Omran as Girl/Boy triggers the meltdown as the emissary of the king to the woman who has captured his heart. She bursts into lyrical, sensuous language that evokes traditional Arabic erotic poetry.
What the Speaker describes as "contagion" — spontaneous improvisation — spreads as the players become seized by real emotion. Deft lighting effects frame the stage with a scarlet proscenium, turning it into the setting for real theater. The bare platform suddenly sprouts a set — a row of plants that stand in for an orange grove. A rack of glittering costumes descends from the ceiling like a vessel from another planet.
Lab coats come off and the players don Elizabethan wear. The harsh Mullah, now in a ridiculous purple velvet suit, becomes a lovesick lecher, Malvolio.
The play is at its best as this peak of liberation builds momentum. Near the end, shifts in tone from satire to anger and pain are abrupt and the Speaker inexplicably disappears, never to return. The muddled ending may be a work in progress: Al-Bassam altered the play's original pessimistic conclusion as he witnessed the transformative events of the Arab Spring.  
Yet what stands out is the compelling energy and stagecraft of this production, which confirms the power of theater, in talented hands, to tell a story that crosses languages and worlds. What will Al-Bassam and his adventurous theater troupe do next?