Tyler Perry talks about his latest relationship drama "Good Deeds"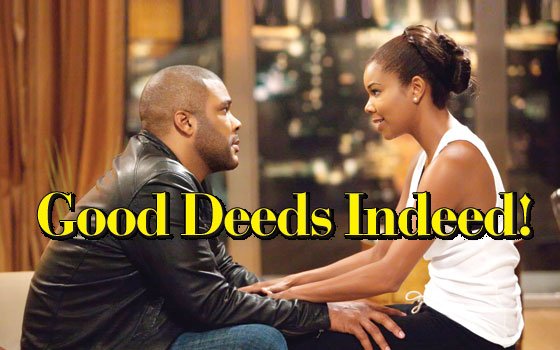 Not one to rest on his laurels, in the fall of 2008, Perry opened his 200,000-square-foot studio in Atlanta, situated on more than 30 acres of real estate. The studio consists of five sound stages, a post-production facility, a pond, a back lot, a 400-seat theater, a private screening room and designated areas for entertaining and hosting events.
But listen to Perry and you'll hear a man who hasn't forgotten where he came from or the folks who helped him reach the showbiz mountaintop. He has donated generously to charities that focus on helping the homeless, such as Feeding America®, Covenant House, Hosea Feed The Hungry and Homeless, Project Adventure and Perry Place Apartments – a 20-home community that he built for survivors of Hurricane Katrina.
In July 2009, Perry sponsored a trip to Walt Disney World for 65 children after learning that a suburban swim club had turned them away because of the color of their skin. Perry has also built two churches and has donated generously to the NAACP.
In January 2010, he pledged $1 million via the Tyler Perry Foundation to help rebuild the lives of those affected by the recent earthquakes in Haiti.
Obviously, Perry practices what he preaches, and what he preaches has endeared him to millions of fans drawn by that unique blend of spiritual hope and down-home humor that continues to shape his inspiring life story and extraordinary body of work.
Here, he talks about his new film, "Good Deeds," a relationship drama which he wrote, directed and stars in opposite an A-list cast including Thandie Newton, Gabrielle Union, Phylicia Rashad, Rebecca Romijn, Jamie Kennedy, Beverly Johnson and Brian White.
Hi Tyler, thanks for the interview.
No worries.
Do you care to comment about the passing of Whitney Houston?
(Pauses to collect himself) Kam, I can't … I'm actually just trying to find a way to get through the day today … Nobody knows this, but I was very close to…(Chokes up) Sorry… I can't… No offense to you, Kam.
I was wondering how you came up with the idea for Good Deeds? Was it inspired by a defining moment in your own life?
For me, it was a question of just reflecting at 40 that I was very grateful that I had followed my own voice. So, that led me to my own path and I listened to outside influences.
"Good Deeds" is a story about a guy who had always done what he was told to do, but never what he wanted to do, until his defining moment arrives when someone comes along who helps open his eyes.
I've had a few of those moments in my own life, like when during a job interview I was told, "You don't complete anything. Your application isn't even complete." And right at that moment I realized I had to become a finisher, and see every task through to completion.
There are a number of actors and actresses you've collaborated with several times in film and/or TV. Is there a Tyler Perry acting ensemble?