Design update on Ferdinand project mixes old and new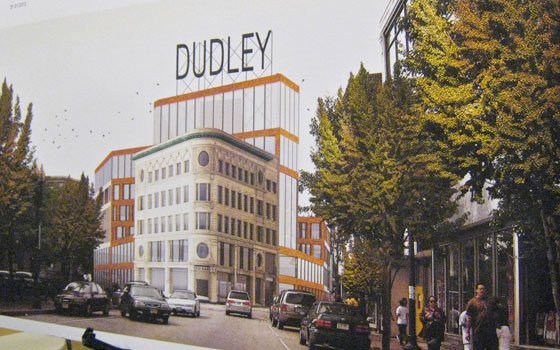 Before and after the formal part of the meeting, attendees milled around the 3-D model and inspected a series of design drawings on easels.
The QandA period brought few complaints about the visual design, but attendees urged the planners to consider other issues.
Building security was one topic. Several people raised questions on keeping the building open and welcoming, yet not overrun with people coming in for bathrooms or shelter. Anderson suggested that new BPS workers coming to Dudley and more windows on the surrounding streets will make the area safer, with fewer loiterers.
"The more eyes you have on a place, the less socially unacceptable behavior you have there," she said.
Longtime Roxbury activist and and entrepreneur Ken Guscott agreed, though the 86-year-old put it more bluntly.
"I hate to say this, but it's dealing with reality," Guscott said. "When a district is refurbished ... when your wife and your daughter start coming to work here, the police come in and clean it up. Crime is where poor people and people of color are. So it'll change. The police will suddenly start patrolling this area."
Roxbury artist Napoleon Jones asked if the city has an art consultant to plan public art in the project. None is on board yet, Anderson said, but they are exploring this idea.
Kai Grant, 42, a Roxbury resident and Dudley Main Streets board member who has followed the design process closely, pressed once again for the design to include a rooftop space for innovative uses. While last fall she suggested a sports bar or nightclub, she now has a new vision with an educational purpose.
"The idea I'm introducing is to have the top of the building become a 360-degree 'observatory,' " said Grant. She described an educational space that could be a think tank, a destination for school field trips, and a site for a "Fab Lab," a mini-lab project started by the MIT Center for Bits and Atoms where people can try their hand at various types of technology.
In a later conversation, Grant expanded on her idea, calling it one piece of a new "education district" that could be part of Mayor Thomas Menino's legacy.
"I want to see this community begin to grow and thrive," she said. "Retail's just not good enough. I like retail, but that's not going to really take our community and lift it into the next generation. If we do right by Roxbury, we do right by the whole city."
The next scheduled meeting of the Dudley Vision Advisory Task Force is Feb. 23 at 6 p.m. at Greater Boston Elder Services, 2315 Washington St. A mid-February meeting to discuss communication and outreach is still under consideration. For more information, see www.dudleyvision.org.