Construction manager named for Ferdinand site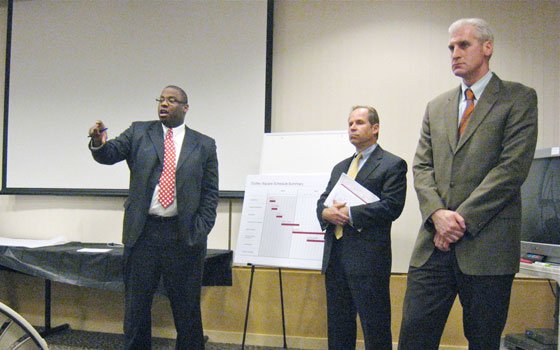 He said concerns were being carefully noted and there would be plenty of chances to hear more and to be heard. He reminded the group of a Jan. 31 meeting to discuss design, and another meeting Feb. 23 (6 p.m., 2315 Washington St., Roxbury). He and Mulligan said including BWSC and MBTA in a future meeting is a good idea. Afterward, Whiteside indicated another meeting may be set for mid-February to address communication and outreach concerns.
Attendees suggested handing out flyers at Dudley Station and going door to door to inform elderly or disabled residents what to expect.
State Sen. Sonia Chang-Diaz repeated a suggestion she made at a previous meeting that city agencies use social media and go on TOUCH 106.1 radio to announce construction job opportunities and meetings.
Shawmut CEO Tom Goemaat, when he was able to have the floor for a time, stressed his intent to partner with the community, especially on issues involving construction impact mitigation and job availability.
"We're not going to take steps without talking to the right people in the community," he said, "and if we don't have the right people, we are looking to you to tell us who we need to be talking to."
He has reached out to the Massachusetts Minority Contractors Association (MMCA) already, he said.
The Shawmut team also alerted job seekers about some requirements.
"Everyone needs OSHA 10 training — 10 hours of Occupational Safety and Health Administration training — before they can be hired," said Goemaat. "So if you don't have that, we'll be working to make sure you know how to get it."
In addition, workers on Shawmut's payroll must be union members, though some trades hired by subcontractors can be non-union.
A handout provided at the meeting contained a list of resources and information for job seekers:
• The Roxbury Resource Center (617-989-9150) offers assistance with OSHA training programs and other building trades training programs.
• The Boston Residents Jobs Policy Office (617-918-5480) runs a jobs bank to help increase employment opportunities on city-funded construction projects for Boston residents, women and workers of color.
• A walk-up job trailer will be set up at the Ferdinand site where workers can submit applications and learn about upcoming trade work.
• The website www.dudleyvision.org will provide information on the project schedule as well as meeting notes that might contain work force-related news.
While much of the evening was focused on construction impact, reaction to Shawmut's selection was positive. Walker expressed faith in the company even as he demanded more attention by the city to potential community impacts.
Jesse Jeter, MMCA's executive director, was not present, but in a phone interview he expressed confidence in Shawmut's minority hiring commitment.
"A, we're happy with the selection, and B, we're happy that they've reached out to us already," said Jeter. "I know there's a sincere desire there to establish and meet hiring goals for MBEs and WBEs [minority- and women-owned business enterprises]."
Jeter expects that workers and subcontractors will receive needed job information, though he is aware of the frustration and mistrust.
 "There's such a spotlight on this project, I'd be very surprised if they don't have very good residency and [minority/women] enterprise hiring numbers on this job," he said. "If things aren't going well, the community will know. But I don't see that taking place."
District 7 City Councilor Tito Jackson weighed in at the meeting with optimistic words.
"I met with Shawmut last week, and we had a good conversation about jobs," he said. "One of the things I laid out is we're not only working on jobs, but on wealth creation in our community."
Jackson urged each person in the room to report back to 10 other people that there will be jobs on this project. He wants to ensure people have opportunities to apply and to get training where needed.
"We have an opportunity, working with Shawmut, to guide this process," Jackson concluded. "We'll make sure we benefit from this. I'm not going to let a project in the middle of my community not be built by folks in our community."