Three women 'Red Tails' left out of its story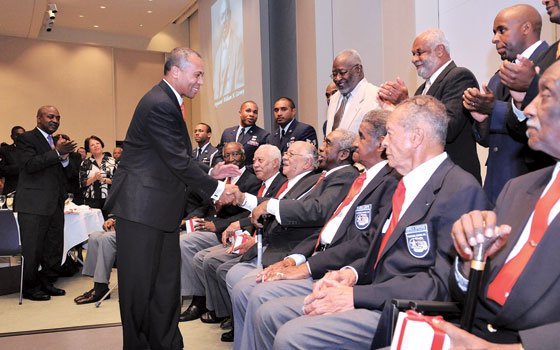 This is quite likely the first time a black man flew a plane with a white woman as his passenger. Roosevelt spent over an hour in the skies above Tuskegee. She returned to Washington and lobbied her husband to integrate America's aviation forces. According to the FDR Presidential Library and Museum, she declared that all the statements she had heard that blacks couldn't fly planes were bunkum.
The rest is history: The 99th Pursuit Squadron (later called the 99th Fighter Squadron) was formed in July 1941. The first class of black aviator cadets began to train on Nov. 8, 1941, with the first pilots graduating on March 7, 1942. In all, 992 African American pilots trained at Tuskegee Army Air Field, and 450 of its black pilots flew in combat during the war, serving in the four black fighter squadrons and four bomber groups.  
By June 1944, black pilots had flown 500 missions in the 99th Fighter Squadron, first in North Africa and later in Sicily and the rest of Italy. The 332nd Fighter Group flew 179 heavy bomber-escort missions, as "Red Tails" depicts so effectively, shielding heavy bombers such as the B-24 Liberator. They shot down 111 Axis aircraft.
In their longest escort mission, the 332nd Fighter group managed to shoot down not one, but three of the new ME-262 jet fighters that the Germans threw against the propeller-driven fighter planes — again, in a battle that Lucas so vividly re-creates. Sixty-six of the Tuskegee Airmen died during the war, and others earned many Purple Hearts, Silver Stars and Distinguished Flying Crosses. President Harry S. Truman even gave the Tuskegee Airmen a Distinguished Unit Citation for "outstanding performance and extraordinary heroism."
When black activists urged Truman to desegregate the military in 1948, they could point to the heroism of the "Red Tails" pilots to prove that black servicemen had earned the equal treatment that they deserved as loyal Americans. But without the bold imagination of Mary McLeod Bethune, the persistent advocacy of Willa Beatrice Brown and the sheer stubbornness of her friend Eleanor Roosevelt, it is doubtful that Tuskegee Airmen would have come into being.
And while I found the depiction of the relationship between one of the airmen and his Italian fiancée quite touching (in a nod to a similar romance depicted in Spike Lee's "Miracle at Santa Ana"), it is a pity that the contributions of these three women — two black, one white — couldn't have been called up to frame the action of this very important film.
Henry Louis Gates Jr. is director of the W.E.B. Du Bois Institute for African and African American Research at Harvard University, and editor-in-chief of The Root.