Arts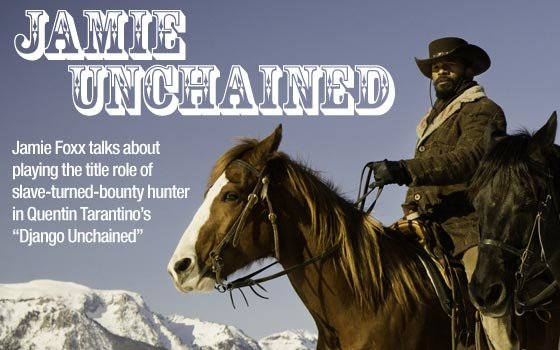 Did you have any reservations?
I didn't have a knee-jerk reaction like some people did to the language and the violence. My stepfather was a history teacher at Lincoln High School in Dallas. So, I was already familiar with the N-word and the brutality of slavery. What I was drawn to was the love story between Django and Broomhilda and how he defends and gets the girl in the end. I thought it was just an amazing and courageous project.
In this film you turn the docile stupid black man myth on its head. You also portray the enduring love of a black man for his woman.
Most definitely! When you see the slave who's been chained and whipped with no way out, and he finally catches up to this, some people call that revenge. But I say, "No, it's righting a wrong at that time."
Ordinarily, when the slave gets a chance to hold the whip or the gun, they start singing a hymn or doing the speech about "If I do this, I'll be as bad as you." We come out with a mixtape, and that's it. But with Quentin Tarantino, it's just like a regular Western. The bad guy has to pay, and the good guy gets his woman.
Have you seen the film with a black audience? Were people talking back at the screen?
Yeah, they were yelling like crazy.  
In both your stage name and your career choices you've paid homage to great black artists who have come before you. Is this film another acknowledgement of that legacy?
Absolutely! I know this might sound strange, but some of the people I actually studied for this film were a little more contemporary. Of course, I started with the original film "Django" and Clint Eastwood's "The Good, the Bad and the Ugly," but I also watched Wesley Snipes in "New Jack City," and Denzel Washington in "Glory" and "A Soldier's Story." Those performances moved me in a way that I cannot explain. So, you're seeing me tip my hat to those guys in this film.
How did your first big heartbreak impact who you are as a person?
Guys don't adapt as well as women do to getting their heart broken for the first time. It's tragic. I really wanted to be in love, get married, have kids and buy a wood-paneled station wagon for the family. But it didn't work out.
You have so much fun singing. What would be your dream band, if you could select the members from any group?
My dream band? Jesus Christ! I would start with Prince, and then Questlove and Buddy Rich on the drums, Rick James on the bass and Herbie Hancock on the piano. The horn section would be Miles Davis on lead trumpet, with Wynton and Branford Marsalis. I'd have Santana on lead guitar and Sheila E. doing percussion. My hype man would be Jerome [Benton] from The Time, and my singing group would be New Edition. There it is!