Arts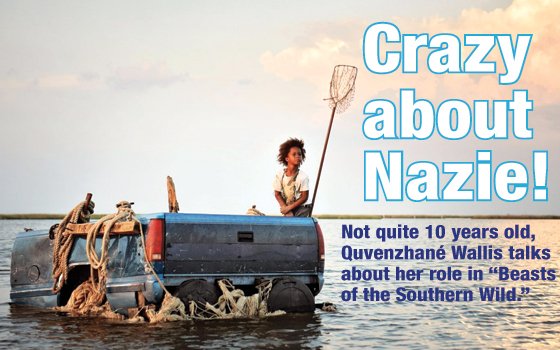 Yes, but that's not really why I liked him. I liked him because of his personality. He just acted himself.
What is your favorite food to eat?
Jambalaya… No, stir-fry.
If you could have one wish instantly granted, what would that be for?
To be a wizard.
Like Harry Potter?
No, like a wizard on "The Wizards of Waverly Place." It's another show I like on the Disney Channel.
The Kerry Washington question: If you were an animal, what animal would you be?
I would like to be a penguin and a leopard.
What do you want to be when you grow up, an actress or something else?
A dentist.
Who is your hero?
My mom.
What is your favorite music to listen to?
Dancing music.
Is there any question no one ever asks you, that you wish someone would?
Yes, how did you burp and scream like that in the movie?
Okay, how did you burp and scream like that?
It's just something I learned how to do. The screaming I do at my brothers' basketball games to make the other team miss foul shots. One of them is in junior high, and the other one is going to high school.
What advice do you have for anyone who wants to follow in your footsteps?
I don't know, but I would say you have to be nice to people you meet. 
It must be hard for a kid to have to do a lot of interviews when you might like to be out playing.
Yes, it's very hard for a kid to deal with.