Groover: 'Mistakes were made' in church finances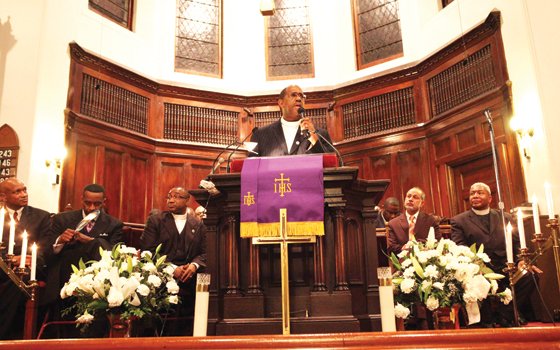 "As discussed with you today," Fleming wrote on Feb. 9, 2009, "the First Episcopal District does not track loan guarantees. The reason is that our practice is to rescue any one of the churches that is troubled, for that reason, we view each church as having a built-in guarantee."
The First District's promised support has not materialized.
In addition to OneUnited, Charles Street owes about $630,000 to Thomas Construction Company, the Dorchester firm hired to build its proposed Roxbury Renaissance Center; another $450,000 is owed to Tremont Credit Union for a loan to repair the church's roof; and an unspecified amount is owed to "no more than 20" other creditors.
Given the enormous debt the Church was accumulating, it was astounding to learn that Groover testified during last week's hearings that he had urged his congregation to stop making offerings and weekly donations to avoid having those funds seized by OneUnited in their attempt to collect the outstanding debt.
When asked to explain the reason that his yearly revenue had dropped by nearly 20 percent between 2009 and 2010 from $1.1 million to about $900,000. Groover testified that he had told his members he was concerned that the litigation with OneUnited would allow the bank  "to go after" the church's assets, including their weekly tithes.
Groover's attitude was formerly more positive. Several months before the public fight erupted, Groover wrote OneUnited a letter extolling their professionalism — and patience.
In a letter dated June 11, 2010, Groover thanked OneUnited "for [its] extraordinary support and assistance…stepping up to the plate when other lenders wouldn't even consider us…"
Groover went on to write to OneUnited that its treatment of Charles Street "exhibits OneUnited's long-held tradition of empowering people and institutions of color in such cities as Boston, Miami and Los Angeles through economically revitalizing their communities."
It is inexplicable that Groover would then launch what amounted to a smear campaign to discredit the bank, including what OneUnited attorneys characterized as "a scheme" to short-change the bank and give the church a $3.6 million windfall.
Groover authorized Bain Capital, the wealthy venture capital firm, to offer OneUnited about a million dollars to settle the matter — or about 30 cents on the dollar. Given the stated wealth of Charles Street's co-signer, OneUnited rejected that offer.
According to court documents filed by Charles Street attorney Ross Martin, Ryan Cotton, a principal at Bain Capital since 2003, was part of the church's financial team that offered OneUnited $1 million to buy the church's outstanding construction loan.
Martin further explained in his brief that Cotton also helped develop a business plan for the church's Renaissance Center, and, most importantly, assisted in raising funds for the First District's estimated $1.5 million donation to complete the Center.
Cotton is expected to testify when the hearings resume next month and he will be cross-examined about his role in arranging a questionable $1 million donation to Charles Street that would appear to come from the First District.
According to bank attorneys, the donation was designed to eliminate the obligations of the First District.
In a series of emails between Cotton and the church's attorney D. Ross Martin, the two discussed a proposed letter for Bain Capital's Managing Director Steven Pagliuca to sign and mail that would pledge "a $1 million donation" to the First District. The specific purpose of the donation was to finish the church's proposed Roxbury Renaissance Center in Grove Hall.
But during an earlier deposition, Rev. Vernard Leak, the reported chief financial officer of the First District, stated that he was not aware of Bain's efforts to raise any donation for Charles Street. Leak also testified that he had never talked with Cotton or anyone else at Bain.
When a OneUnited attorney specifically asked Leak what, if anything, the First District has done to advance fundraising for the completion of the center, Rev. Leak responded with a question: "As in an active way of initiating fundraising?"
"Anything," the OneUnited attorney asked.
"I am not aware of anything," Leak answered.