Diversity more than a buzz word at Warren campaign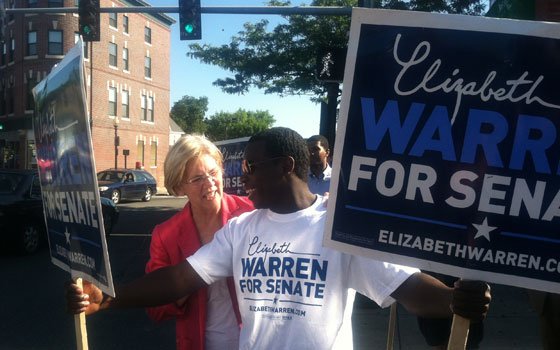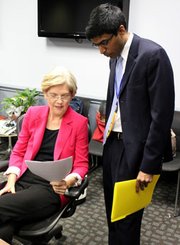 Within the vocabulary of today's political campaigns, few words are employed for rhetorical effect as frequently and casually as that of "diversity."
As an ever-increasing population becomes more racially and ethnically blended by the day, one would be hard pressed to find a candidate seeking elected office who doesn't pay at least the faintest of lip service to the politics of inclusion, lest they sacrifice potentially crucial voting blocs come election time.
 While some of these campaigns focus their attention toward meeting an unspoken quota of sorts designed to provide the appearance of multi-culturalism to the outside world, here in Massachusetts there is at least one political operation that appears to be truly reflective of the diversity that is this Commonwealth.
 "Elizabeth Warren has been a strong advocate on issues important to working families and she is focused on reaching out to communities of color across Massachusetts," said Tracey Lewis, deputy campaign manager for Elizabeth Warren for Massachusetts. "I'm proud to be a part of the diverse staff on this campaign."  
Lewis is part of a senior staff that is comprised not only of accomplished professionals who carry a wealth of veteran political savvy into Warren's race for United States Senate, but who also represent a wide cross-section of the people living in the communities of Massachusetts.
By campaign estimates, nearly half of the people filling leadership positions are people of color.
Regional Field Director Jason Burrell has worked for District 7 City Councilor Tito Jackson and in the Community Outreach Department of the Massachusetts Housing Finance Agency. He is also the chapter president/ assistant executive director for the district of the Alpha Phi Alpha fraternity.  
Roger Lau, political director for the Warren Campaign, carries the political cache of having served as the deputy state director for United States Senator John Kerry, state director for the Hillary Clinton presidential campaign, district director for Representative Marty Meehan, and chief of protocol for the U.S. Department of Commerce, among other duties.
 Deputy Political Director Jess Torres, who is also the director of the National YouthBuild Coalition, has worked as the policy director for Senator Thomas McGee, the field director and interim finance director for the John Tierney for Congress campaign and at the field desk for the Northeast Region of the Michael Capuano for U.S. Senate campaign.
 Policy Director Ganesh Sitaraman is a former public law fellow and lecturer at Harvard Law School who clerked for Judge Stephen F. Williams on the U.S. Court of Appeals for the D.C. Circuit. He was also a research fellow at the Counterinsurgency Training Center in Kabul, Afghanistan and a special advisor to the Congressional Oversight Panel for the Troubled Assets Relief Program (TARP).
 Steve Tompkins, a senior political advisor to the Warren campaign, is the chief of external affairs and communications for the Suffolk County Sheriff's Department, where he oversees all community outreach efforts on behalf of the Sheriff's Department. He recently took a leave of absence from the Sheriff's office to work on the Warren campaign.