Magistrate clerk hopeful seeks to change court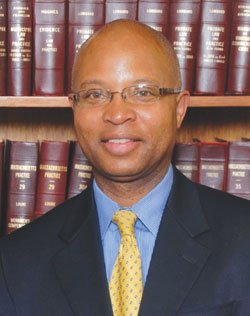 "In thinking about running for office, I said to myself 'why not go for the top [elected] job in the court in order to change the culture of the court,"' said Dash.
Dash claims he would use the power of the office to assign cases to judges that will result in fair treatment. "There are judges that are sensitive to certain cases and there are judges who are not.  I want to be in a position to influence who gets treated fairly."
He believes the position is now racially politicized, resulting in discrimination against so-called minority communities. Dash wants to "bring integrity and fairness into the clerk's office."  
As evidence he notes that the current incumbent has appointed only two assistant African American clerks over the last three decades.
Dash is running against Superior Clerk Magistrate Michael Joseph Donovan, a longtime South Boston politician who has held the seat since 1976.  The superior court seat is centered in Suffolk Country, which includes all of Boston.
They will square off on the September 6 primary election day, which for the first time in recent memory is being held on a Thursday. The changed date is likely to result in a record-low voter turnout statewide.
Political observers believe Dash's election chances hinge on his ability to galvanize black voters in the district where the primary election turnout is consistently below the county average.
Only two other Suffolk County-based races are predicted to boost turnout.
State Senator Sonia Chang-Diaz is facing challenger Roy Owens in the 2nd Suffolk Senate seat primary. Longtime Representative Gloria Fox is being contested by upstart candidates Rufus Faulk and Jed Hresko in the 7th Suffolk State Representative District.
Despite what observers say is a long shot battle by Dash, the candidate is optimistic.
"I feel good.  I am getting a good response everywhere I go.  I am going to win."