Passions flare at Dudley Vision meeting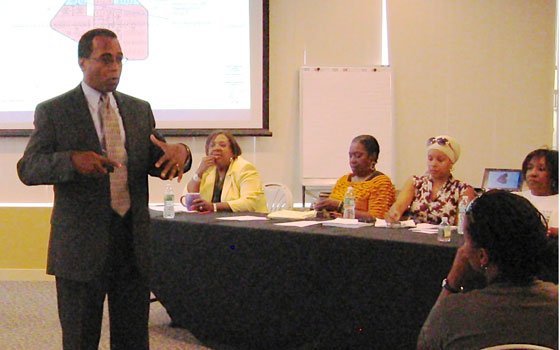 "We wanted to get in [early] to get the most community benefit out of this building," Willis continued. "It's surprising, to say the least, to hear it will be just like any other space—'fill out a form online and pay the fee.'"
Task force member Sarah-Ann Shaw summed up general sentiments this way: "The whole Ferdinand project is a symbol for the community. We've been promised many things. This building, once it's finished, should reflect a promise made and a promise kept to this community."
Bridgette Wallace argued for the need to have community space programmed thoughtfully. She pointed out that several community rooms exist in the Dudley area, but most are used only for occasional meetings. "If a space is not programmed with a purpose, then it's not going to serve the community," she said, drawing applause.
The plans Wallace and Grant presented in June included conference space, classrooms and a fabrication lab where young people and adults could experiment with technology.
"What we propose is a multi-purpose space," Wallace reiterated at last week's meeting. "It would benefit a wide range of people. It would help them move from being consumers — which is what the retail space will do — to being innovators and operators. I can't believe that the School Department is saying we don't want this for our community. That is wrong."
This drew more applause, during which Wallace added, "It's not going to end here tonight."
Throughout the meeting, Jones emphasized that Skylab could very well be implemented, but not in the space the proponents dream of.
"We recognize [Skylab] as a vision," he said, "It can still happen — just not in this sixth floor space. It's a wonderful idea, but not every idea fits in every space."
Task force co-chair Catherine Hardaway urged people to keep open minds about possible locations.
"To me, the vision is more important," she said. "I think the [Skylab] proposal is a great idea, but I want us to not get stuck on the physical space. We have to be open to different directions."
Task force members Fred Fairfield and Joyce Stanley suggested that Madison Park High School might be a location for Skylab, after BPS relocates some departments from the Madison Park building to the new Dudley Square building.
But Grant took exception to these ideas, arguing that the upper floor and Ferdinand roof are integral to the Skylab plan.
"The vision and the view is what we've always talked about," she said, "and how inspirational it would be for our kids and adults to be able to look inside their community, outside it, and beyond."
Jumaada Smith, a task force member, expressed appreciation for the work Grant and Wallace have put into their plan, and for their vision.
"We are onto something with what they are doing, and it belongs right here," she said.
Jones fielded some questions from teen attendees about services and activities for young people in the new building. One "takeaway" from this evening, Jones said, was to communicate to the BPS administration that the new building should be accessible to and utilized by students.