Hip hop's premier poet Nas returns with 'Life Is Good'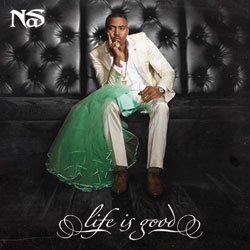 Much of "Life Is Good" exists in a sort of mid-1990s haze down to its fine details: steamy saxophone flourishes on "Stay," samples of MC Shan on "Back When," a loop of Guy's "Goodbye Love" on "Bye Baby" – the fond farewell to Kelis that traces the couple's love and its bitter demise.
When subway trains rumble on "Loco-Motive," a joint effort with longtime collaborator Large Professor, the song feels like the sequel to "N.Y. State of Mind" off his classic debut "Illmatic."  
But this is not an exercise in nostalgia or a collection of dated flashbacks. This is the renaissance of a rap legend who found himself by losing most of what he once claimed.
 "Life becomes clearer when you wipe off the mirror," Nas muses on "Reach Out," and it seems he's had ample time for reflection.     
While other MCs quibbled about "greatest rapper alive" titles and pandered to commercial clichés, Nas created an album that makes most of today's rap music look like practice.
"Life Is Good" reminds us that in spite of the corporate takeover, real hip hop still exists. And for fans that grew up loving hip hop — living hip hop — that's good news.