Hip hop unites communities afflicted by violence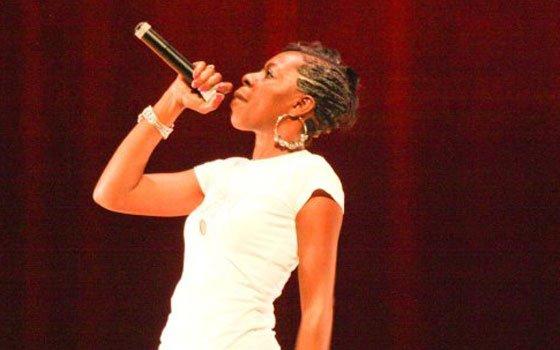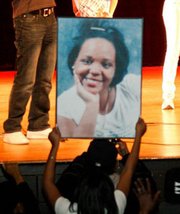 Bay Holla performs her track "You Hurt Me (Paula's Song)." (Joanna Marinova photo)
The Foundation Movement's intensely positive energy vibrated throughout the room as they bounced and flowed across the stage.
"We can't bring you back, but we can bring you forward," they chanted, their affirmations settling over the audience like a soothing balm.
They were performing "Peaceful Warrior," one of two songs they'd recorded for "What Is Beautiful Never Dies," a compilation of songs by local hip hop artists concerned and affected by the impact violence has on the lives of Boston's youth and families.
Though many of the songs in Foundation Movement's musical catalog feature a variety of special guests, Janet Connors and her son Joel "JoJo" Turner are probably two of the most special. Connors' vocals appear throughout "Peaceful Warrior," her mellow alto ambling through her son's favorite lullaby. JoJo's appearance on the track can't be heard, but is certainly felt.
More than a decade after her son's untimely death, Connors stood in front of her seat in the front row of Roxbury Community College's Mainstage Theatre with her hands pressed together near her heart, soaking in the song and her child's spirit as Foundation Movement rhymed about bringing an end to the violence that had cut JoJo's life tragically short.
That evening, a few hundred people of all ages, races and backgrounds turned out to celebrate the "What Is Beautiful Never Dies" album release, watch performances by the album's featured artists and show their support for bringing an end to youth violence.
An offshoot of last fall's Anonymous Boston exhibit, the music project paired Boston hip hop artists with families of murdered youth to create musical memorials to help heal the open wounds created by the rampant violence ravaging urban communities. Families presented photos, writings and belongings of their loved ones to the emcees and singers, who used their songwriting skills, empathy, and personal experiences dealing with violence to bring the youths' lives to the songs.
In recent years, hip hop has gotten a bad rap for helping to perpetuate the violence devastating inner city communities and communities of color. And yet, for many, hip hop has been a haven for the hurt they experience as they endure the violence in their neighborhoods.
 Before an intermission in the performances, Minister Randy Muhammad of the Nation of Islam spoke about how hip hop introduced him to his faith and calling.
"I can truly say, like Lupe Fiasco, hip hop saved my life. Don't let the suit and tie fool you —­ I've been on the same streets out there. I didn't come from a middle-class family. I'm the youngest of a family of eight, [from a] broken home, [and grew] up in the gang violence, in the streets."
"As a young man, one of the things that was my saving grace was that ... hip hop was conscious," he told the audience. "Being into hip hop, I would always listen to the lyrics. And I can say that hip hop saved my life because the first time I heard the word 'Farrakhan' came from a rapper — Chuck D! So, I credit hip hop for leading me to Farrakhan and the Nation of Islam, which took me off of those streets and put me on the path that I'm on right now," he said.