WriteBoston opens students' eyes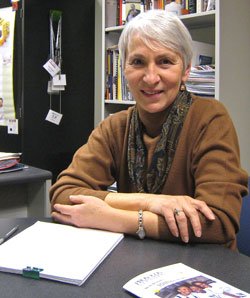 "Ten years is a big one," she said. The program has served 23 schools, more than 250 teachers, and some 4,500 students. At one school WriteBoston aided, she said, the passing rate on the MCAS English portion rose in three years to 64 percent from 16 percent.
"We have a real model," she continued. "So now what? Where do we go from here?"
Southwick, parent of two grown children who attended Boston public schools, exudes warmth and business-like competence. Her manner reflects her years as a teacher and guidance counselor, followed by several stints managing non-profit and for-profit businesses. In those latter roles, she was an expert at growing a venture from nothing to a thriving and sustainable operation, she said.
"You grow gradually, create a quality product, and then add to it," she said.
Headmaster Narcisse recalls finding out about WriteBoston when he was new at English High.
"I was looking for what programs in this city work. I had just arrived in Boston, and someone at another school connected me with Betty Southwick. She and her team really 'get' urban schools — the type of work and the complexity of it."
Things really seem to be looking up at English, and Narcisse is upbeat.
"We're very confident that by the time our children leave English High School, they will be able to write essays at the college level," he said. "We knew for a while that we had gaps we had to fill. WriteBoston has helped us accelerate that process. We are lucky to have this partnership.