Ferdinand design plans are falling into place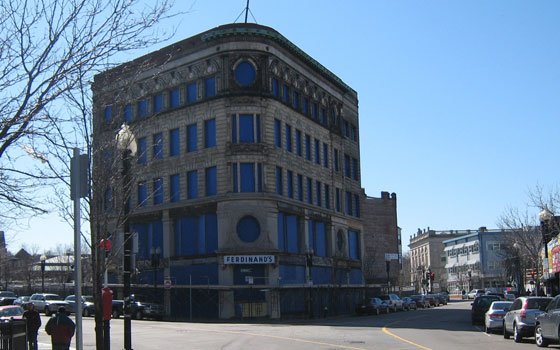 There was some discussion of a new "Dudley Square" sign seen in the slides, this one in white cursive script on the building's exterior wall. Some task force members approved of it, one likening it to a "signature" for the building. Others found it jarring. Some questioned the need to feature the square's name at all. They cited other popular city focal points, such as Coolidge Corner and Kenmore Square, that are well known and vibrant without such self-announcement.
Attendee Bridgette Wallace probed the plans for the top floor public meeting space and asked the planners to keep the design flexible to accommodate a variety of uses, including "lifelong learning." Wallace was representing the recently formed Dudley Square Education District Committee, a group of community members seeking to make Dudley known as an education district, similar to the designated "innovation district" in South Boston.
Wallace and other members of her group have spoken up at previous public meetings suggesting a 360-degree "observatory" space for the building's roof that could be a destination for school field trips and a site for a "Fab lab," a minilab where people can try their hand at various types of technology.
Anderson stressed that the top-floor meeting rooms and those on the second floor will be multi-purpose rooms. For requests to design the rooms for certain purposes, she advised Wallace to contact BPS operations and facilities directors.
Jed Hresko, a Townsend Street resident and candidate for state representative, 7th Suffolk District, suggested that planners address coordination of security, building access and janitorial services during the design process. He cited other buildings that, once open, had unanticipated problems due to unclear responsibilities among the various entities occupying a building.
At the start of the meeting, Anderson explained the Chapter 149a "Construction Management at Risk" process. While most buildings are completely designed before a construction firm is chosen, in the "at-risk" method, the construction firm is chosen early on and the design process continues during the early construction phases, she said. Thus the project was able to break ground on March 3 with the design just moving from schematic to development phase. The accelerated process was chosen to help ensure the $115 million, 200,000-square-foot project can be completed on schedule in 2014.

For further information on the Dudley Municipal Center project and related meetings, see www.dudleyvision.org.