Task force hears demolition, parking plans for Ferdinand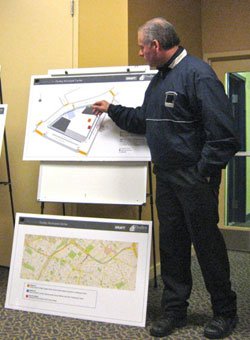 The second half of the meeting addressed traffic and parking plans during construction. Shawmut Construction representatives Micah O'Neil, senior project manager, and Bob Wice, construction superintendent, showed diagrams of how construction vehicles will travel around the construction site.
The construction work will occupy the sidewalk and one parking lane around the perimeter of the Ferdinand block, but traffic lanes will not be reduced. The entire Ferdinand block will be "cordoned off" with fences and Jersey barriers, Wice said, and pedestrians will be directed to the other side of the street. Construction workers can park their own vehicles on the old B-2 police station site nearby; they will not be allowed to use street parking spaces.
"The plan right now is to set this up sometime in May," Wice said, pending Boston Transportation Department approval, "and it will be this way for the majority of the job, until fall of 2014."
The parking topic drew far more questions and comments than the demolition discussion. Several meeting attendees said parking is a critical concern — for merchants, employees and potential customers. The municipal center project does not include parking to speak of, except a dozen or so underground spaces for BPS vehicles.
 "We have about 2000 employees (in Dudley Square) each day," said task force member Joyce Stanley. "We already need more parking. And now we're taking away parking."
At least eight traffic studies have been done, Stanley said, but solutions have not been implemented. She expressed frustration that parking is dealt with only on a project-by-project basis, with discussion of broader long term solutions lacking.
"We need a district solution, and we need it now," she said.
The officials present offered no real answers, but promised to listen to the issues and work on a solution.
"Traffic and parking are a universal concern throughout all of Boston's neighborhoods. We are working on a plan specific to Dudley Square," said Joseph Mulligan, deputy director of the PCM's Capital Construction Division, by telephone after the meeting.
Upcoming meetings about the construction project include a design workshop April 12, a general project update April 26 and a transportation and parking discussion May 10. Meetings are held at 2315 Washington St. in Dudley Square. Announcements and meeting notes are posted at www.dudleyvision.org.