The Musuem of Fine Arts recently unveiled its new expansion project that showcases art from the mid-50s.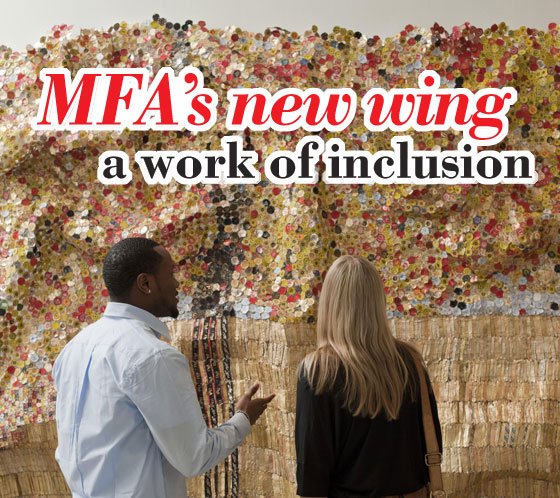 Curated with an eye for drama and sensuous immediacy, the show will reward return visits. Standouts include individual works as well as intriguing combinations. The delectably baroque, all-black "Iago's Mirror" (2009) by African American artist Fred Wilson is mounted near a beaded curtain by Felix Gonzalez-Torres. Boldly geometric works dominate one gallery, including Ellsworth Kelly's billboard-size primary color wall sculpture, a terrific highway image by Ed Ruscha and Andy Warhol's "Red Disaster" (1963/1985), which duplicates the photo of an electric chair in a grid.  
Known for self-portraits in an endless assortment of guises, Cindy Sherman is represented here by a photograph of herself in an oriental courtesan's robe. Nearby is the startling "After Walker Evans" (1981), photographer Sherrie Levine's portrait of herself as the gaunt woman in an iconic Depression-era image by Evans.  
Palestinian Mona Hatoum's "Grater Divide" (2002) turns a cheese grater into a razor-edged, 10-foot-high barrier. Nigerian El Anatsui's "Black River" (2009) weaves discarded liquor bottle caps and foil wrappers into a glistening tapestry. A spectacular Donald Judd sculpture, "Untitled" (1993) stacks sleek Plexiglas rectangles into a column, each layer casting a prism of light.
The screening room shows three semi-playful studies of human endurance entitled "Dynamic Duration." In Carlson/Strom's "Sloss, Kerr, Rosenberg, and Moore"(2007), four lawyers enact a choreographed performance that mimics the gestures and speech of a high-test New York practice. In Kate Gilmore's "Blood From a Stone" (2009), the artist, Sisyphus-like, endlessly lifts heavy white cubes onto a shelf. Floating upright in the Dead Sea, her feet clasping a watermelon, Israeli artist Sigalit Landau strokes her arms like fins to maintain her balance.
 Turn from new media to the timeless medium of wood in the Henry and Lois Foster Gallery, where through March 4, "Ellsworth Kelly: Wood Sculpture" is on view. A 1948 graduate of the Museum School, Kelly distills observed phenomena — the contour of a hill or the slant of light on a page — into abstract forms. From 1958 to 1996, Kelly worked with renowned art fabricator Peter Carlson to translate his abstractions into 30 wood sculptures. Nineteen are on display here. Their simple forms and subtle joinery expose the eloquence of the wood's grain and hue. A slender column of sapele has a grain that flows like the lines of a Chinese landscape scroll.
The MFA has now created a primary place for contemporary art within its encyclopedic breadth of collections, exhibitions and programs. With all of its resources, the museum can present contemporary artists in the context of their peers and predecessors. May the inclusive and adventurous spirit evident in the opening of the new wing inspire the exhibitions to come.