in the Mix
9/20/2011, 10:49 p.m.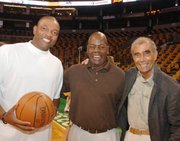 Chris Tucker
After my interview with Chris Tucker, I was very curious to see his stand-up, having never seen him before. Tucker was in town at the Citi Performing Arts Center, with Terry Hodges opening the show. Hodges hit us right off the top with the joke: "I've been so broke lately I've been reduced to dating homeless women."
He got the crowd on his side right away and it was on from there! Next up was London Brown who was discovered by Tucker at the Improv in Hollywood.  Brown talked about his mom and the fact that his family has several last names which led him into saying, (and I'm paraphrasing here), "my family has several last names … Browns, Lees and Matthews. My mom wasn't a ho, she just liked variety."
And next up, was the man of the hour — Chris Tucker — who came out on stage to James Brown's "The Payback," wearing a white silk suit and black tie and looking very sharp. The crowd was hyped and ready to laugh. Tucker's material was good but what makes his stand-up really funny were his facial expressions, his excitement about being on stage, his dancing and very charismatic personality.
Tucker began by talking about his movies, how much money he's made, his son and his tax problems, not necessarily in that order. Of his tax issues, he said, "That's the last time I'm going to let Wesley Snipes help me with my taxes" and with that one line, he brought the house down. One of the jokes that cracked me up was about how he made so much money that he bought the house next door to his house. He said, "I was my own next door neighbor!" It was a fun show. I had a great time and laughed. What more can you ask for?
Monday Night Football
Coach Willie Maye's "Monday Night Football" is back at Kings in Back Bay and started off with a bang! It was the Pats versus the Miami Dolphins and the joint was packed. There were a lot of new faces in the house, like Dymon Rondo (Rajon Rondo's sister) mixed with a very cool vibe of football fans and people like me, who just like to have fun and meet people. Kings is a great place to hang out with friends, have a bite to eat and of course watch the games on the flat screens. And, if you get bored, although you shouldn't, there's billiards and bowling to keep you entertained. You should definitely add the night to your social calendar!
Hoop Dreams
Action for Boston Community Development (ABCD) held their first Annual Hoop Dreams fundraiser at the Garden. The concept was corporate teams having a "once-in-a-lifetime" experience playing on the legendary parquet floor with the money going to charity. In this case the proceeds benefitted ABCD and the Urban College of Boston. It was an awesome event!  About $100,000 was raised for both organizations and the teams had a blast playing in the Garden, getting a private tour of the Celtics locker room and the best part of the night, having a private reception with Boston Globe sports columnist Bob Ryan and Celtics head coach Doc Rivers.