Neponset River trail bridges Mattapan and Milton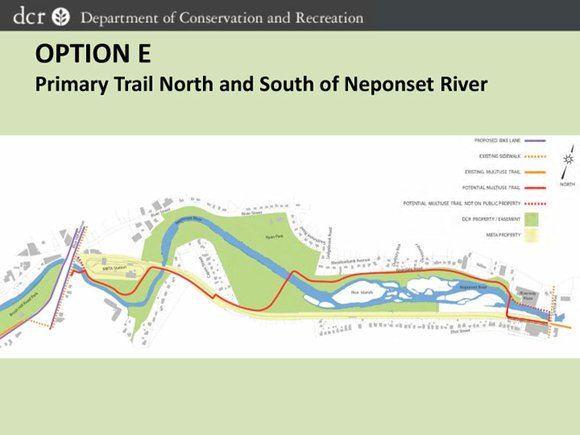 The proposed route is the sixth alternative the department has offered. Last year, it started with three and expanded that to five.
A significant obstacle was the vociferous opposition of some residents on Milton's Capen Street who objected to the extension passing by or connecting to where they live near the river bank. In public comments made to the department, they expressed fears the trail would amount to a corridor for crime from Mattapan, despite the relatively stable, middle-class neighborhood adjoining that side of the river.
In her presentation, Crosby noted that the route runs "several hundred feet from the residences" around Capen Street, where the trolley stop closest to the square is situated.
But some Capen Street residents who did not share their neighbors' fears complained they would have to walk to either end of the planned extension to have access. They asked for an entry point at the Valley Road trolley stop.
Crosby said the embankment is too steep there to create a handicapped-accessible entrance and doing so "could jeopardize funding."
With the route finally settled, state Rep. Linda Dorcena-Forry, who represents Mattapan, hoped sharing the trail extension once it opens will bring communities together.
"It's important we connect our communities — Dorchester, Mattapan and Milton," she said.