Director Diane Paulus hits the refresh button on a Gershwin classic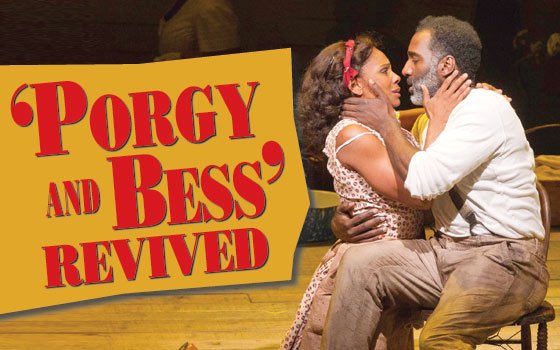 Boykin is persuasive as Crown, Porgy's menacing rival for Bess. During a hurricane, he bursts into Catfish Row, where the people huddle and pray for relief from the storm, and rouses them with his brazen, "A Red Headed Woman."  
Grier is superb in his role. In a later scene, he channels big-band leader Cab Calloway's "diddy-wa-doo" style and turns the men into an orchestra of shimmying bodies to "It Ain't Necessarily So."  When he sings "There's a Boat That's Leaving Soon for New York," he tempts Bess with a mix of swagger and restraint.
And he is a deft mime as Mariah, the sassy and soulful matriarch of Catfish Row, cuts him down to size in the show's great comic episode, "I Hate Your Strutting Style."
NaTasha Yvette Williams (whose twin sons alternate as the baby) is a captivating Mariah. She embodies in her ample girth and heart the resilience of the denizens of Catfish Row, which is the true subject of the ART production.
The villagers come alive in every scene — from the keening aria of Serena (Bryonha Marie Parham) over her dead husband, killed by Crown, to the sublime chants of the street vendors. Cedric Neal ends his sinuous cry, "I'm talkin' about devil cra-abs" with its traditional high-pitched whoop. A glowing Andrea Jones-Sojola peddles her strawberries and Phumzile Sojola hawks his honey jars with flair.    
Attired for a picnic in straw hats, dresses and suits, the ensemble becomes a joyful pastel pageant. McDonald's Bess gets to stretch her long dancing legs in a rare moment of jubilation, drawn into the communal dancing by Mariah.
One regrettable amendment in this production is the insertion of trite dialogue in some scenes that states the obvious and falls flat. Clara tells Jake, "Be careful," as he heads out to sea despite an approaching storm. Mariah explains her overtures to Bess, saying she wants her to "feel welcome." Bess assures the neighbors, "I'm good for Porgy."  
Mariah is the lodestar of this "Porgy and Bess," a production that is more about the struggles, trials and resilience of Catfish Row's residents than the love of its namesake couple.
In the overture to Act II, a rhapsodic instrumental reprise of "Bess, You Is My Woman Now" is a reminder of what is rare in the interaction between this Bess and Porgy — joy.
McDonald and Lewis render their characters as intense but remote figures.    
Lewis is a dignified and determined Porgy with an angry edge and he sings that way. As he intones, "I gotta' travel that lonesome road," his face is lit to emphasize his isolation. Later, as he celebrates his life with Bess by singing "I've Got Plenty of Nothing" in his rich baritone, his smile expresses more triumph than joy.   
McDonald's Bess is taut and tough, her beautiful face fixed in a scowl and streaked with a scar that resembles war paint. When Porgy first beckons her, his arm outstretched, she crosses the stage to embrace him, but the stark coupling lacks any hint of desire.
Yet all this distance melts away as McDonald bursts into "Bess, You Is My Woman Now." With her rapturous lyric soprano rendering of this gorgeous ballad, McDonald confirms the enduring power of this "folk opera" and the love story at its heart.