Band leader excited about Afro-Cuban jazz show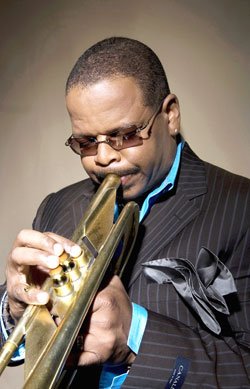 World renowned musician Terence Blanchard and Latin jazz band leader Poncho Sanchez will soon be in Boston to perform in a special concert called "Cubano Be! Cubano Bop!"
This debut performance between the two artists is a tribute to a historic concert of the same name that featured legendary jazz artists, Chano Pozo and Dizzy Gillespie.
That concert also changed the face of jazz in America, giving birth to new genre known today as Afro-Cuban Jazz.
Blanchard is excited about the performance, which will include songs from the recently released "Chano Y Dizzy!" CD that features both him and Sanchez performing tunes from the original "Cubana Be! Cubano Bop!" performance.  
Born and raised in New Orleans, Blanchard studied jazz at the New Orleans Center for Creative Arts, and later pursued an illustrious solo career that includes composing for movie and television soundtracks.
He produced the soundtrack for Spike Lee's "Mo' Better Blues" and was the ghost trumpeter for Denzel Washington in the film. Later he would go on to complete soundtracks for other Lee films, such as the "Inside Man," "25th Hour," "Bamboozled," "Summer of Sam," "Clockers" and "Malcolm X."
His filmography is extensive and includes having produced musical scores for a number of popular black films, such as "Talk to Me," "Caveman's Valentine," "Eve's Bayou," "Sugar Hill," "Barbershop" and "Next Friday."
Not a lot of jazz artists are able to work in two mediums, but you have had a very successful career producing scores for movie soundtracks. How were you able to do that?
It started with me just being hired to play music and then after that Spike Lee heard me playing a melody on the piano and he asked me to use that melody and that became the theme for the "Mo' Better Blues." It all just blossomed from there. I always tell people that it's about preparation and taking one step at a time.
Looking at your discography, is there any one album that you feel particularly connected?
Not really because they all occupy a different kind of space in my life. They come from different aspects of what I've been doing. For example, "The Heart's Speech" project was an amazing experience, and "Let's Get Lost" was incredible too.
I got to work with four great female singers: Diana Krall, Diane Reeves, Jane Monheit and Cassandra Wilson. It changed my life. The last couple of albums that I worked on made me proud because the guys in the band showed me that they were able to grow. These were young musicians who are like the cornerstones of a new movement in jazz.
What does the future of jazz look like to you?
The future's very healthy, you have young artists who are extremely talented, very proficient, and they have a lot to say. You've got Robert Glasper, Walter Smith, Ambrose Akinmusire, these are all great young artists. They're making a musical mark in this profession and you're going to be hearing more from them in the coming years.