The power of women, according to Shakespeare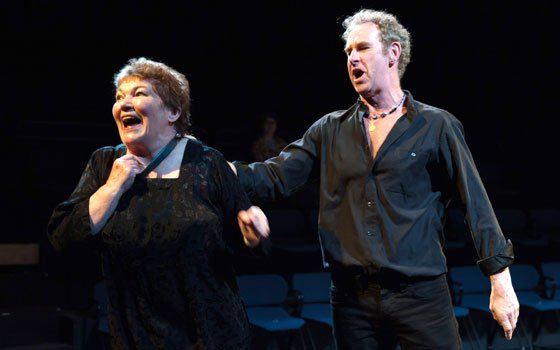 Packer moves from the vanquished Kate to "warrior women" such as Queen Margaret of Anjou who negotiate power and then to Juliet, Shakespeare's first heroine to equal her lover in intelligence, imagination and courage.
After the intermission, Packer's portrayals compare the fate of women who pretend to be men with those who speak the truth and die. In one of the evening's bravura feats of acting, Gore's Othello, astride Packer's Desdemona, ignores her pleas and prepares to strangle her. In a split-second switch, the actors become Orlando playfully wooing his pal Ganymede, unaware that the lad beneath him is the girl he pines for, Rosalind, in disguise.
In a searing scene, Packer's Lady Macbeth convinces her husband to murder his friend and become king. Packer tells us that she is one of the females in Shakespeare's mature tragedies who adopt the same kind of power that embroils men in endless cycles of revenge and war.
"When women do not offer an alternative way of doing things," says Packer, "chaos breaks out."  
In Shakespeare's late plays, Packer observes, daughters forgive fathers and create a new order that rises beyond tragedy. In her one unpersuasive scene, drawn from "Pericles, Prince of Tyre," Packer portrays the daughter of Pericles, Marina, as a kind of a New Age healer, her hands mimicking Reiki as she calms the addled prince.
But having already made her case with strong moral and artistic force, Packer can afford a few quirky choices.
In "King Henry VIII," Packer tells us, Shakespeare celebrates this female model of power that brings life out of chaos in a eulogy to his patron, Queen Elizabeth. Although her father was a murderous king, she presided with benevolence over a stable England. Letting a bundle of red fabric represent the newborn Elizabeth, Packer and Gore conclude their evening by reciting Shakespeare's rhapsodic eulogy to the queen.  
Packer is a consummate guide to Shakespeare. Her exploration of his women, like the plays themselves, invites us to consider our own understanding of power.