D.C. memorial dedicated to MLK and his vision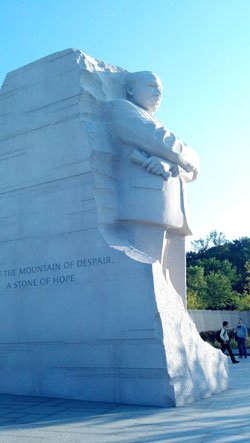 Instead, the inscription reads, "I was a drum major for justice, peace and righteousness."
The paraphrased version "minimizes the man," said Maya Angelou, the most vocal critic of the inscription. "It makes him seem less than the humanitarian he was … It makes him seem an egoist."
It is not yet clear if the inscription will be changed.
The monument had its inception in 1984, a year after former President Ronald Reagan declared King's birthday a national holiday, when members of the Alpha Phi Alpha proposed building a national memorial to their fallen fraternity brother. After more than 20 years of planning, fundraising and construction, the memorial opened to the public on Aug. 22, 2011.  
Major contributors to the project included General Motors, Boeing, Tommy Hilfiger, Ford and Coca-Cola, among other large corporations.
Also speaking Sunday morning, Martin Luther King III, the oldest living child of Martin and Coretta, warned against making his father into a commodity. "While it is great to have this memorial to his memory — it's great to have a national holiday, and it's great to have streets and schools and hospitals named in his honor all over this nation and the world," he said, "It is also important to not place too much emphasis on Martin Luther King the idol, without enough emphasis on the ideals of Martin Luther King  Jr."
"Sometimes we get caught up in the brand of my father," he continued, "and we forget the focus and the beliefs of my father."
Like his sister, King also mentioned current areas for social and economic change, including the wars in Iraq and Afghanistan, and encouraged the audience to remember their collective, connected humanity.
Rep. John Lewis, D-Ga., who participated in the Freedom Rides in 1961 and coordinated the SNCC's Mississippi Freedom Summer's voter registration campaign, said King "must be looked upon as one of the founding fathers of the new America" because he "liberated a nation."
To the visible disappointment of the audience, many of whom were decked out in T-shirts and buttons bearing Obama's face, the president's keynote speech was delivered at a distance, so he could only be seen on the stage's jumbotron, not in person. Nevertheless, the crowd chanted "four more years" as his image appeared on the giant screen.
Obama, who at times seemed to be speaking about himself, reminded the crowd, "Change has never been quick — change has never been simple or without controversy."
"Dr. King wasn't always considered a unifying figure," he continued. "Even after rising to prominence, even after winning the Nobel Peace Prize, Dr. King was vilified by many ... He was even attacked by his own people."
Like the other speakers in the program, the president then encouraged the crowd to continue King's legacy. "Dr. King refused to accept what he called the 'is-ness' of today — he kept pushing toward the 'ought-ness' of tomorrow," Obama went on. "We can't be discouraged by what is — we gotta keep pushing for what ought to be, the America we ought to leave to our children."
"Let us keep striving. Let us keep climbing to the Promise Land."
Also appearing were Aretha Franklin, Stevie Wonder, Rev. Jesse Jackson, former president of the Southern Christian Leadership Conference Rev. Joe Lowery, former NAACP Chairman Julian Bond and former Banner reporter Gwen Ifill, now senior correspondent for PBS NewsHour.