Arts
10/18/2011, 2:08 p.m.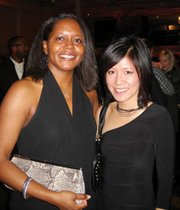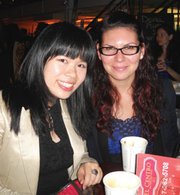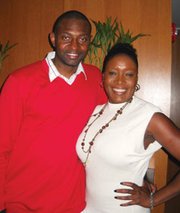 The Kings of Salsa
It was a night of Havana with the Boston debut of Kings of Salsa at the Cutler Majestic Theatre. The show was electrifying with Cuba's best young dancers, who swayed and glided across the floor to the music by the live band, Cuba Ashire. The show was absolutely electrifying, fun and hot as I like to say, muy caliente! The dancers performed the Cuban classic dances from the mambo and rumba to salsa and the cha cha cha. It was such a fun show. Hope they come back next year!
Top Dish Authority
I can never say no to a new food experience, so it was relish that I attended Exhale Magazine's Top Dish event at the Epi Center in South Boston. It was a huge party with music, gorgeous people, great food and drink, and it benefited the Greater Boston Food Bank.
I walked in with my plan to hit every table, but that idea was quickly sidetracked. I had just enough time to dig into my chicken and waffle sample from Local 149 when I ran into Billy Costa and Rich from KISS 108's "Matty in the Morning."
I had to chew quickly, but the chicken and waffle was like heaven. Who knew that combo could be so good? Then it was off to Stella's table to sample the beef short rib with butternut squash puree and fried sweet potato. Oh … my … god!!! It was divine. The short rib just melted in my mouth and the fried sweet potato chip was a great touch. I was in food heaven!
After that it was on to the lobster taco at Lolita Cocina and Tequila Bar; samples of duck confit at the Beacon Hill Hotel and Bistro; a little bit of braised lamb from the Woodward; a scoop of pumpkin turkey chili from Healthy Habits Kitchen and the piece de resistance, the pumpkin whoopie pie from Baby Train BBQ. One of the best desserts I've had in a long time.  Needless to say, I slept like a baby that night!
Champagne and Dessert for Lydia Diamond
By now, you must know my appreciation of good food (Top Dish, hello?).  So, when I received the invitation to Company One's gathering to celebrate Lydia Diamond's Broadway debut of "Stick Fly," I couldn't pass up the opportunity for a little bubbly and dessert, and of course to congratulate Diamond on her success.
It was an intimate affair and as I arrived I noticed the house was bathed in soft lights and candles. It made for really good conversation. Arts Editor Kay Bourne and WGBH's Callie Crossley were chatting it up and Diamond was absolutely charming and funny in her speech. By the way, the desserts were an array of mini cheesecakes and cupcakes!  Mmmm … so good.
Coming up …
Tonight, (Thursday, Oct. 20), the "No Hipsters Rock 'n' Roll Revue" brings together a night of rock 'n' roll, bawdy burlesque, storytelling and poetry by upcoming artists and established acts at Club Bohemia, downstairs at the Cantab Lounge in Central Square, Cambridge at 8 p.m.
This Sunday, Oct. 23 World Music/CRASHarts presents "Tales from The Sahel: An Evening with Senagalese artist Baaba Maal" at 7:30 p.m. at the Institute of Contemporary Art.
Three-time Latin Grammy Award-winner and Brazilian musical icon Ivan Lins performs on Wednesday, Oct. 26 at the Berklee Performance Center, as part of the 2011-12 Signature Series at Berklee.  
ABCD's 37th Annual Community Awards Dinner at the Seaport Hotel World Trade Center on Thursday, Oct. 27 at 7 p.m.
Company One presents the trilogy, "The Brother/Sister Plays" from Tarell Alvin McCraney beginning Oct. 28 thru Dec. 3 at the Boston Center for the Arts.
The 24th Annual Steppin' Out for Dimock Gala will be held on Oct. 29 at the Westin Copley Place.  
The Oberon in Harvard Square presents Sandra Bernhard in the one-woman show "Sandra Bernhard - I Love Being Me, Don't You?" for a limited run beginning Nov. 1 thru 4.
If you would like me to cover or write about your event, e-mail me at inthemixwithcolette@gmail.com.