Haitian designer delivers on Hub fashion runway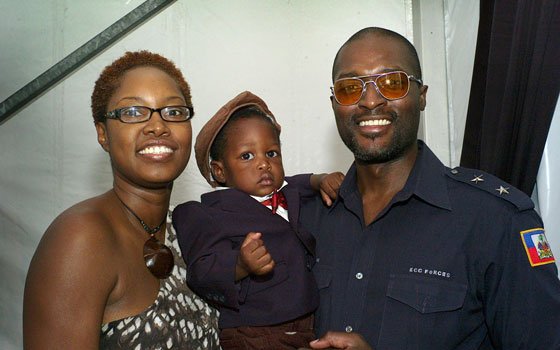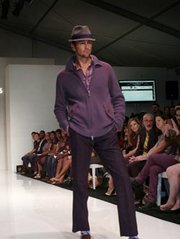 Jeff Lahens' retro-preppy men's couture left Hub fashionistas shouting for more during the young designer's turn on Boston's premiere fashion runway.
"Any Given Day," Lahens' collection from a quartet of leading haberdashers as well as his own line, featured stubbled models strutting to house beats. The combination of rugged tweeds and corduroys with color accents and hirsute attitude put a distinctly New Boston stamp on traditional menswear.
"Boston marches to a different beat," said Sunny McDonough of Divine Beauty Cosmetics as the  lights came up on Lahens' show during the recent Boston Fashion Week. "And Jeff captures it perfectly. It's a clean, physical line — stylish and retro — as opposed to the structural look of what fashion is expected to be coming out of New York, Paris or Milan. Boston isn't afraid to let loose and play a little bit."
The 35-year-old Haitian-born designer and marketing maven cultivates disarray in the clothes he curates from brands like the hunting-inspired Ball and Buck, with its blood-red duffel coats and heavy chinos. The runway model, sporting the BandB look with a double-barreled shotgun over his shoulder, fired up the hip Boston crowd during his walk down the tent runway set up in the garden court at the Mandarin Oriental Hotel.
"I want to create my own path," said Lahens, who was named Boston Magazine's 2011 "Best of Boston Men's Designer." "We know Boston is not the fashion capital of the world and we're OK with that. We tend to be preppy and reserved, but we're also fun and confident."
In Lahens' world, the student-infused Boston style accommodates yellow socks, two-tone shoes and pork-pie hats with corduroys rolled up to mid-calf.
Looks like that may have been what prompted GQ magazine to dub Boston the nation's worst-dressed city, but Lahens scoffs at the judgment of corporate fashion, whose dictates, unheeded, give rise to rank rankings. "In Boston, we're more than what we wear," he said. "Our fashion is who we are, what we think, and what we do."
The fundamental conservatism underlying the Boston style led Lahens to structure his original ECC Life and Style business model, created in 2004, around the concept of bespoke clothes. In Lahens' case, think Savile Row come to Savin Hill: Tailors taking a client's precise measurements to curate a half-made suit held together with wide baste stitching that allows it to be easily taken apart and re-made for the best possible fit.
 "I believe in making clothes that are meant to last," he said. "A Boston guy doesn't go to the mall every weekend to buy suits off the rack. I want to create something that could be the one piece in his closet that he can use for dressing up or dressing down, perfectly fitted, elegant when it needs to be, casual when he wants."
Dress Code Boston (dresscodeboston.com), the expanded design and marketing platform Lahens created in 2010, "allows me to market different brands, to create a look beyond dress code uniformity. I want to showcase looks that allow people to create their own personality, to cultivate their own."