Ferdinand plans underway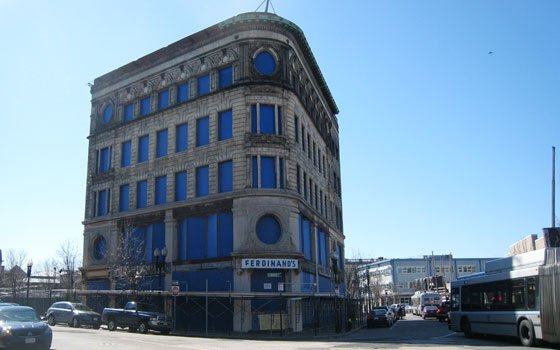 Mulligan and Anderson fielded questions from the Task Force and an audience of a few dozen local residents. Comments and questions ranged from passionate hope for Dudley Square's future, to suspicion that the community will be disappointed or lied to, to concerns about parking and construction dust.
Several people spoke of bringing vibrancy to the neighborhood with businesses that remain open past daytime hours.
"There is such opportunity with that rooftop," suggested Kai Grant, 42. "It's one of our golden eggs." Grant, a Dudley Square Main Streets board member who leads the organization's economic restructuring committee, said she could give "a zillion" ideas to the designers, some based on focus groups with community members. "Let's talk about a sports bar. Let's talk about nightlife," she said, "[So people] don't have to go to the South End to go out at night."
The most heated conversations revolved around minority representation in the planning and construction.
"You have some nice presentations, but where are the minorities?" asked Ken Guscott. "Right now we have the white community preaching to the black community about how it's done." Guscott, a long time community advocate who touted his "86 years in the business," called for the planners to involve young minority people in the community, "so when this building's done, we have a cadre of young people who know how to do the next building."
Anderson said bids are in from four large New England contractors, but subcontractors for 17 trades, such as electricians, plumbers and masons, have yet to be selected. Mulligan noted that subcontractors are more likely to be smaller, local operations, and that's where the minority hiring is likely to happen.
Local resident Priscilla Flint pressed him on that point. "With all due respect, I've been in this city for a long time, and most of the construction done is not done by people of color," she said. "So is there going to be anything done to incorporate more minority contractors?"
In Boston, city-funded construction projects are required to follow a 50-25-10 rule, with 50 percent of jobs going to local residents, 25 percent to people of color and 10 percent to women. But attendees were clearly concerned that this rule might not be followed, or that it's not enough.
Task Force member Jumaada Smith challenged the "so-called minority" hiring. "Were not hiring African American men," she said. "We're hiring Latinos and others, but not African Americans. We have to have a consciousness about this. We have to fix it."
The recent Area B-2 police station construction nearby was cited as a good model for minority hiring. On that project, they exceeded the requirements, Mulligan said. For the Ferdinand project, they will do similar outreach to local companies and workers about job opportunities, the application process, required certifications and the like, he said.
Dana Whiteside, deputy director of community development for the Boston Redevelopment Authority (BRA) and project manager for the Dudley Square Vision Project, reminded the audience that an Oct. 27 meeting will focus on jobs, and that minority hiring questions could be addressed there.