Art of the Body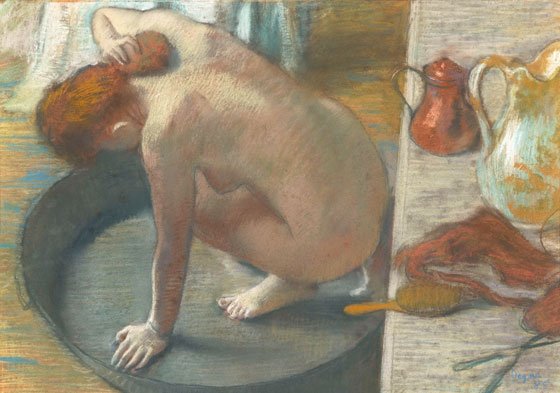 As he explored the nude figure, Degas made inventive use of media that lend a tactile immediacy to his images. He crafted the monotype prints by wiping layers of ink off the etchings he drew on metal plates, using his fingers, a rag or the butt of his paintbrush. Later, he hand-colored his monotype prints with pastel chalk. It was as if he wanted to touch his subjects rather than mediate the process with a brush. Inevitably, in his quest for immediacy, he turned to sculpture, and began modeling his nude figures in wax.  
The same unsparing, attentive eye Degas brought to his scenes of prostitutes going about their daily lives he turned to rendering women in their bourgeois homes as they bathed and washed themselves.
He renders their natural shapes and movements with bold, dynamic lines as — often with awkwardness — they climb in and out of tubs. His light and shade effects endow their curves with three dimensions, as if he were molding each woman's body in his mind. Even the large and ungainly figures that make their way into his pastels and monotypes have dignity, loveliness and vulnerability.
One after another, his mid-and-late career monotypes, pastels, charcoal drawings and sculptures render ordinary women as they perform their most intimate daily routines. Degas does not idealize their bodies. Instead, he renders each woman with physical accuracy and warm immediacy — often with what look like rapidly executed strokes of chalk.
In  "La Toilette" (1884-86), a richly colored pastel over monotype, morning sunlight caresses the woman's back as she bends toward the sink, heightening the lines of her body, the round washbowl and the long verticals of drapes.  
A friend of Degas, the American painter Mary Cassatt, takes a different approach to the same scene in her exquisite print, "Woman Bathing" (1890-91). Cassatt's version is more akin to the Japanese printmaking tradition admired by progressive artists of the day, including Degas, for its compositional elegance and linearity. Her deliberately flat, almost depthless composition focuses on the colors, lines and patterns of the scene, which interlock like tiles. We delight in its cool serenity. In contrast, the more textured and less formal image by Degas pulls us in with its sensuous immediacy.
As the exhibition moves into such mid-and-late career works by Degas, it gathers astonishing momentum. Displayed in great abundance and variety, they render the human figure with intimacy and a nearly abstract sense of form. With charged lines, electrifying colors and warm naturalism, the works surge with energy.  
In his later years, as his eyesight weakened, Degas increasingly added sculptures to his repertoire of nude renderings. A wall-length vitrine shows seven bronzes of dancers in a variety of poses. Flanking this display are two drawings of raw power, the charcoal "Three Nude Dancers" (ca. 1895-1900) and "Dancers, Nude Study" (ca. 1899) a charcoal with pastel tints.  
Another vitrine shows a quartet of sculptures in which a nude executes four variations of a difficult pose, her torso twisted and her body balanced on one leg. In the nearby pastel "After the Bath" (1895-1900), the subject assumes the same contorted pose, the curves of her arm and torso bathed in light.
Here is a mature artist, ceaselessly striving to capture the reality of the female figure in motion.    
Among the eloquent works by Degas in his later years are nudes by artists he influenced, including painter Paul Gauguin and sculptor Auguste Rodin as well as younger artists such as Pablo Picasso, Pierre Bonnard and Henri Matisse.
In his last decade as an artist, Degas was still captivated by the challenge of rendering the live human figure. Instead of the idealized classical figures he studied in his youth, Degas created monumental images of ordinary women, imbuing each with the immediacy of a study and the complex allure of art. His images still radiate fresh physical and emotional truth today.