Academy of the Pacific Rim teaches personal responsibility with a global outlook
10/12/2011, 2:01 a.m.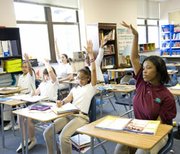 Since opening in 1997, the Academy of the Pacific Rim Charter Public School (APR) has placed character education and academic excellence at the center of student life. The Academy's college-preparatory program is designed to help each student achieve his or her full academic and social potential, from teaching incoming fifth graders how to stay focused and on-task throughout the day to coaching seniors through the college application process. The most important lesson students learn at APR is how to become better thinkers and learners. They learn to discipline and challenge themselves in the classroom, and take as much pride in their efforts as they do in success.
As a result, nearly 100 percent of each graduating class matriculates to a 4-year college. On the 2011 MCAS, 97 percent of APR's tenth grade scored advanced or proficient in ELA, and 91 percent scored advanced or proficient in math — rates that are similar to those of high-performing suburban high schools. There is no measurable "achievement gap" between white and African American students. Collectively, the entire class of 2011 won financial aid packages worth more than $2 million.
At the root of these successes lies the Academy's practice of blending the lessons of Asian educational tradition — character education, discipline and high standards — with the more typically western values of individualism, creativity and diversity. "Kaizen" is a Japanese word with no English translation, but students at the Academy of the Pacific Rim practice it daily. When they tutor each other after school, when they clean their classrooms, when they revise homework assignments a second and third time, all are acts of Kaizen. Kaizen is the process of slowly and relentlessly working to improve oneself and one's community, one small step at a time. It is central to the school culture at APR, which is focused on achieving one thing: personal excellence.
Students perform daily routines and rituals of greeting and respect as they enter the building and begin a class. Weekly ceremonies recognize students who have most demonstrated those two character virtues. More traditionally western practices include small advisory groups, individualized instruction and support to meet the needs of all learners. Students in the middle school have an art, drama or gym class each day.  APR also has a diverse array of extracurricular activities which include soccer, basketball, step and an exceptional theater program.
Beginning in the fifth grade, school culture at the Academy focuses on college as the ultimate goal for every one of its students. The middle school years are highly structured, training students to practice self-discipline and hard work in preparation for high school and college. When students reach high school, they discover that they have internalized many of the skills required for self-discipline, and begin to work and learn far more independently. With independence comes greater responsibility, but of course far greater privileges as well.
The signature opportunity of the APR high school experience is the chance to participate in an exchange program with our sister school in Beijing, China. Since 2001, APR high school students have been traveling to Beijing, and spending two weeks experiencing the sites, as well as participating in Chinese family life. Students who wish may return the following fall for a semester exchange. A new summer exchange will begin in 2012.
APR believes these experiences are crucial preparation for students who will one day be joining an increasingly global work force. For this reason, the school heavily subsidizes these exchanges, and the cost to participating families is minimal. Hosting Chinese exchange students has provided APR families with a wonderful way to make new friends from around the globe.  
On any given day, the Academy welcomes visitors to campus, and members of the community, particularly prospective parents, are encouraged to stop by for a tour. They will see a variety of dynamic, talented faculty members in action, leading classes of students who are focused, engaged and on their way to college.