Cape Verdean pol charts GOP course
Yawu Miller | 10/7/2011, 3:12 p.m.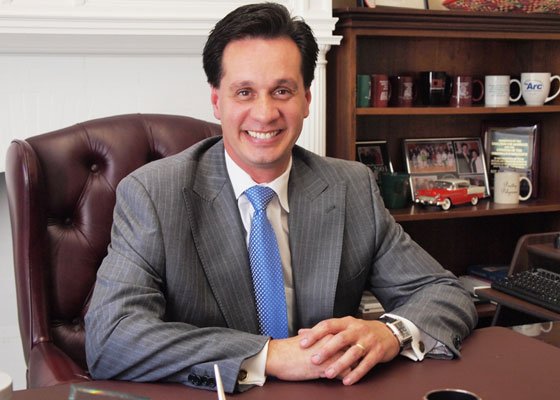 If the pictures on a legislator's walls tell a story, the story portrayed in the office of 1st Plymouth District Rep. Vinny deMacedo is unlike any other in the Statehouse.
Along with photos of his wife, son and daughter are a wood cut-out map of the Cape Verde islands and a map of Plymouth. He has a framed photograph of Ronald Reagan, another of himself and national GOP strategist Andrew Card, and a black-and-white grip-and-grin shot with former Cleveland Browns running back and blaxploitation film hero Jim Brown.
"Being a big football fan, I thought it was pretty exciting," deMacedo says of the souvenir from Brown's Statehouse visit.
Reagan and Card's photos speak to a set of conservative values forged by the Republican legislator's experience as the child of hard-working immigrants and his years of experience working with and owning small businesses in Massachusetts.
The map of Cape Verde speaks to a lifelong love affair with the place of his birth, kept alive through stories and photographs his parents shared with him.
The eclecticism on his walls is reflected in his work on a wide range of issues at the Statehouse.
As the highest-ranking Cape Verdean elected official in the state, he often serves as a liaison between government officials from the West African island nation and local officials.
"You will not see the Prime Minister of Cape Verde come here and not have the ability to meet with the governor and the speaker of the House," he says. "My goal is to continue to keep that relationship open, regardless of which party is in control."
As one of 33 Republicans in the 160-member House, deMacedo has carved out a unique niche in an elected body where going along with the Democratic leadership is widely seen as the only way to get anything done. He's the ranking minority member on the House Ways and Means Committee, a position that gives him influence in the state's budgeting process.
His experience as a small business owner and his GOP small government convictions have prompted him to vote against the Legislature's budget frequently, but not always.
"I think we put together a good, conservative budget this year and I voted for it," he says.
On the House's vote to approve gambling in Massachusetts, deMacedo bucked both the Democratic leadership and the Republicans, arguing that any jobs created by casinos would take jobs and away from local businesses.
"Ultimately they would be at the expense of jobs at restaurants, hotels and cinemas in our communities," he says. "There's a limited amount of disposable income in the state."
DeMacedo sees the casinos as a threat to the economy in his hometown of Plymouth, which relies heavily on tourism, the third largest industry in Massachusetts.
"If you're going on vacation to Plymouth and you look on Expedia, you'll see the Plymouth Sands Hotel and you'll see a four-star hotel that's subsidized by a casino," he says. "When you wake up in the hotel, you're not going to eat at the Water Street Café, you're eating a free buffet subsidized by the casino."