Healthy eating strengthens bodies, communities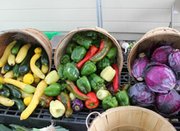 Joel Varela, or JJ, as his mother likes to call him, is almost 2 years old and loves to eat his vegetables.
"You know how kids don't usually eat — but he eats a lot, he eats really good," his mother, Lizette Varela said. "My son loves broccoli — oh my god. If I give him a bowl of broccoli, he'll eat the whole thing!"
But these aren't just any vegetables that JJ devours — they are vegetables Varela has harvested herself. The 22-year-old Dorchester resident is an urban farmer.
Originally from Mexico, Varela moved to Texas when she was 14 years old, then to Boston when she was 19. Without any family, job, or place to stay, she and her son went to the Department of Transitional Assistance and were placed in a motel room. Growing up the granddaughter of farmers, Varela was accustomed to home-cooked meals and fresh ingredients, but soon turned to microwave dinners — the only food she could prepare in her motel room.
"It was really uncomfortable," she said of eating frozen meals everyday. "I couldn't sleep well for months — I was so hungry."
She was eventually transferred to Victory Programs' ReVision Family Home, where she has been living for several months. The Dorchester shelter works to transition women and their families to permanent housing through job training and education assistance, and also works to develop other skills like parenting and nutrition. In addition, these women have the opportunity to work on ReVision Urban Farm.
The farm, which started in 1990, spans three empty lots across the street from ReVision Family Home and provides fresh produce for the women at the shelter and local residents.
When Varela began several months ago, she was interested in gardening and cooking because of her family background, but knew little about it. That quickly changed. "They would tell me, 'you can make all this, just sauté the vegetables,' and I was like, 'say-what?' I didn't even know what that means," Varela said. "But I learned. And I think it's good because now I can provide my son with more healthy stuff."
As obesity rates skyrocket across the state and country, the importance of healthy eating is coming into focus for most Bostonians. But as previous articles in this series have shown, a nutritious diet is not always easy to attain — high food prices, access to high-quality food and the saturation of junk food prove formidable obstacles. And usually, these challenges are marked along racial and economic lines. In fact, low-income communities of color face the greatest difficulty securing healthy food.
At the same time, Boston boasts numerous innovative solutions to disparities in the city's food landscape, and individuals like Varela prove that difficulties can be overcome. Initiatives undertaken by nonprofit organizations, charities, businesses and city government are popping up everywhere. "This is a social justice issue," City Councilor At-Large Ayanna Pressley said of the obstacles to healthy eating. And Bostonians are eagerly taking up this new cause.