African Meeting House opens after restoration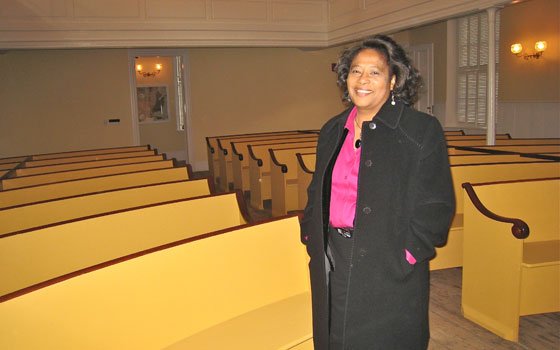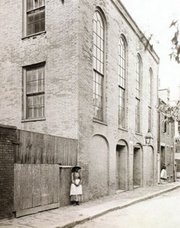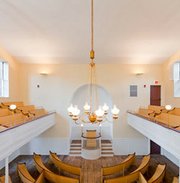 Boston's African Meeting House, built in 1806 by free black artisans and serving as a place of worship, education and abolitionist organizing, is about to reopen after a meticulous restoration of the building to its 19th century splendor.
A private rededication ceremony will be held Dec. 6, the building's 205th anniversary; the public grand opening is Dec. 9.
"It's hard to call it anything but a treasure," said Lynn DuVal Luse, a spokesperson for the Museum of African American History (MAAH), which acquired the African Meeting House, 46 Joy St. in Beacon Hill, in 1972. "This building is essentially the Holy Grail for African American people and for people who are about freedom around the world. Slavery ended because of what happened right here."
Abolitionist luminaries who spoke here include Frederick Douglass, William Lloyd Garrison, Charles Sumner, William C. Nell and Maria Stewart, an African American abolitionist and women's rights activist who was the first American woman to lecture to audiences of men and women. The Meeting House also served as a Civil War recruitment center for black soldiers of the Massachusetts 54th Regiment.
Beverly Morgan-Welch, executive director of MAAH, emphasizes that no matter what the event, a passionate anti-slavery message almost always pervaded.
"If you were meeting here as the Garrison Juvenile Choir, the songs were anti-slavery songs," she explained. "If you were meeting here for a celebration, it might be to greet Cassius Clay, a great anti-slavery leader from Kentucky."
The oldest black church building in the country, the Meeting House is a National Historic Landmark and a stop on the Black Heritage Trail. In the restoration, every possible original feature was kept, including the wide-plank pine floorboards. Missing objects, original wall finishes and lighting were carefully replicated with the aid of historical documents, drawings and photographs.
Morgan-Welch lavished praise on what she called "the best possible team" for the six-year project, including John G. Waite Architects, Haley and Aldrich engineers and Shawmut Design and Construction.
For Carl Jay, director of historic preservation at Shawmut Design and Construction, a key goal was protecting the original wainscoting and floors. "The floor has such significance," he said, "because you are walking in the same building where the abolitionists met."
At the start of this restoration, only two original pews remained. Now 59 new ones match them. The new and old pews share a rich golden hue, polished cherry trim and an unusual curved shape. It is hard to tell them apart, except that the new ones were built slightly higher and deeper for today's bodies.
"The pews seem to embrace you," Morgan-Welch said. "You come in here and you feel that you're a part, that you're welcome."
Diana Parcon came to the project as a historical preservation specialist, and is now MAAH's director of operations. She was awed by the craftsmanship and acoustics of the building.
"They were geniuses, when they built this back in 1806," said Parcon. "It was a simple plan, but executed to the highest. The curvature of the walls, the semicircle of the roof, it all contributes to the reflection of sound. You can speak here without microphones."