In need of last minute Thanksgiving recipes?
11/22/2011, 6:41 a.m.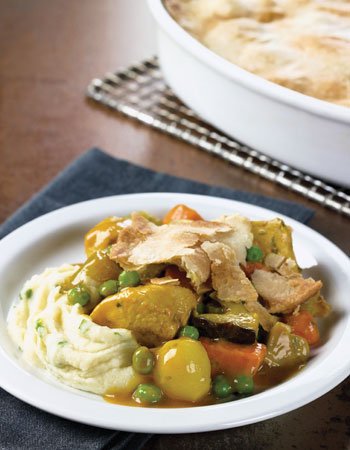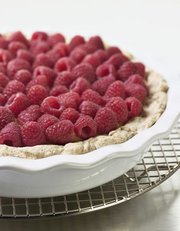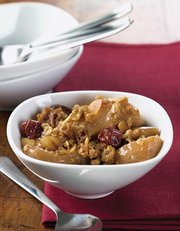 Chicken Pot Pie
Serves 8
Note: This filling for the pie can be made a day or so in advance. Feel free to put an egg wash (one egg whisked with a tablespoon of water) on the finished pastry before baking if you prefer a sheen on your crust.
This version of pot-pie is loaded with vegetables, gets rid of the cream or milk usually called for in other recipes, and the crust is trans-fat-free.
For the chicken:
2 tablespoons olive oil
6 cloves crushed garlic
1 tablespoon picked thyme leaves or 1 teaspoon dried
1 tablespoon chopped fresh oregano or 1 teaspoon dried
1 tablespoon chopped fresh tarragon  or 1 teaspoon dried
1 bay leaf
1 teaspoon turmeric
2 teaspoons salt-free all-purpose seasoning
1 teaspoon ground black pepper
½ teaspoon salt
2 cups frozen pearl onions, thawed
1 cup carrots, peeled and cut into
1-inch cubes
1 cup celery, cut into 1-inch pieces
1 cup shiitake mushrooms, sliced
½-inch thick
1 cup crimini or button mushrooms, quartered
4 tablespoons flour
¼ cup Pernod (optional)
3 cups low-sodium chicken stock
1 pound skinless, boneless chicken breast, cut into 2" cubes
1 cup frozen sweet peas, thawed
½ cup chopped parsley
For the crust:
1 cups flour
½ teaspoon salt (optional)
½ cup trans fat free margarine spread
3 tablespoons ice water
Prepare the chicken. In a large sauté pan over medium-high heat, heat the olive oil until hot. Stir in the garlic, thyme, oregano, tarragon, bay leaf, turmeric, salt-free all-purpose seasoning, pepper, salt and sauté for one minute. Add the onions, carrots, celery, and mushrooms and sauté for two minutes. Stir in the flour and coat the vegetables well. Add the Pernod, if using, and chicken stock and stir to blend well. Allow the mixture to come to a simmer. Stir in the chicken and simmer for five minutes. Stir in the peas and parsley. Remove from heat and pour the mixture into a 3-quart oval casserole dish. Cover loosely with foil and set aside.
Nutritional Analysis (per serving)
Calories: 295
Total Fat: 9.0  g
Saturated Fat: 0.5 g
Polyunsaturated Fat: 1.5 g
Monounsaturated Fat: 5.0 g
Trans Fat: 0.0
Cholesterol: 33 mg
Sodium: 493 mg
Carbohydrates: 33 g
Fiber: 3 g
Sugars: 4 g
Protein: 19 g
Dietary Exchanges: 2 lean meat, 1 1/2 starch, 2 vegetable, 1/2 fat

This recipe is brought to you by the American Heart Association's Face The Fats program. Recipe copyright © 2007 by the American Heart Association. Look for other delicious recipes in American Heart Association cookbooks, available from booksellers everywhere.
Berry-Topped Pudding Pie in Meringue-Nut Crust
Recipe courtesy of Alton Brown
Serves 8; 1 slice per serving
Canola or corn oil for pie pan
2 large egg whites
½ teaspoon vanilla extract teaspoon cream of tartar
teaspoon salt
½ cup sugar
¾ cup walnuts or pecans, finely chopped
1 small package fat-free, sugar- free instant lemon or vanilla pudding mix,  prepared with
2 cups cold fat-free milk
12 ounces fresh berries or other fruit, sliced if needed
½ cup fat-free frozen whipped topping, thawed (optional)