2011 election wins challenge Hub's racially divided history
Yawu Miller | 11/16/2011, 8:09 a.m.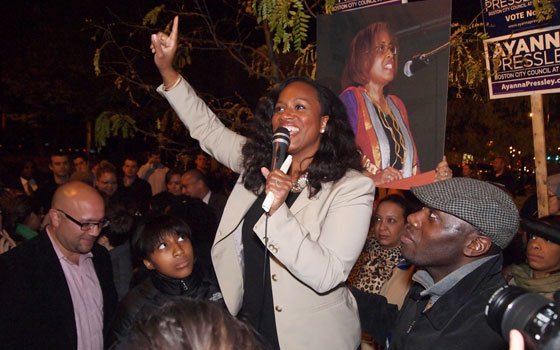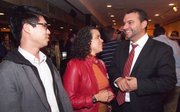 In the weeks before the Nov. 8 City Council election, At-Large councilors Ayanna Pressley and Felix G. Arroyo were widely seen as vulnerable, in danger of losing their seats.
In the days following their first and second-place finishes in the balloting, pundits declared that the political landscape in Boston has shifted profoundly and Arroyo and Pressley were being discussed as possible candidates to succeed Mayor Thomas M. Menino.
While neither Pressley nor Arroyo has publicly expressed any interest in running for mayor, the talk of a political shift may well have substance.
"Increasingly, communities of color are voting in higher numbers and they continue to vote for candidates of color," says political commentator Kelly Bates. "And more and more white people are voting for people of color."
An analysis of the Election Department's unofficial results shows both factors Bates cites were instrumental to Arroyo's and Pressley's victories.
The top three white candidates on the At-Large ballot — John Connolly, Stephen Murphy and Michael Flaherty — received the bulk of their support in the traditional white ethnic strongholds of West Roxbury, the Neponset, Cedar Grove and Savin Hill neighborhoods of Dorchester, South Boston and Charlestown.
And those neighborhoods voted in higher numbers than the black, Latino, Asian and liberal white neighborhoods that threw their support behind Arroyo and Pressley. In West Roxbury, for example, Connolly and Murphy placed ahead of Pressley. Connolly, who lives in West Roxbury, beat Pressley by 1,335 votes and Arroyo by 1,621 votes.
But in most neighborhoods across the city, Arroyo and Pressley more than made up for their losses, winning areas like Roxbury, Jamaica Plain, Mission Hill, the Fenway, Roslindale and Hyde Park.
In the South End and Chinatown, which went to Pressley and Arroyo respectively, a hard-contested battle between incumbent councilor Bill Linehan and challenger Suzanne Lee helped drive turnout in Asian, Latino and white liberal communities who are more likely to vote for candidates of color than the South Boston residents councilors have counted on in District 2 since it was originally drawn in 1982.
While Lee lost to Linehan, she came within just 86 votes of winning — a remarkable showing for a first-time candidate.
"I think that's even more dramatic than Ayanna's victory," District 4 City Councilor Charles Yancey says of Lee's narrow loss.
In addition to Lee's campaign, competitive races in District 7, where incumbent Tito Jackson faced off against Sheneal Parker and District 4, where Yancey ran against perennial candidate J.R. Rucker, may have also helped drive turnout in the black community.
Those contested races, as well as a hard-fought campaign between Frank Baker and John O'Toole for the District 3 seat in Dorchester, may have helped push voter turnout higher than the last non-mayoral municipal election in 2007 when just 13.6 percent of registered voters turned out to the polls. This year's turnout was 18.1 percent.
Turnout varied, from 27.9 percent in West Roxbury's Ward 20 to 19.5 percent in Roxbury's Ward 12 and just 11.5 percent in Ward 5, which includes the Back Bay and Beacon Hill.
While Pressley and Arroyo's first- and second-place victories surprised many, the political clout they drew on to win has been developing steadily over the last decade with notable victories including that of Arroyo's father Felix D. Arroyo, who was rocketed from a fifth-place finish in the At-Large race in 2001 to second place in 2005.
Also notable was Suffolk County Sheriff Andrea Cabral's 2004 election, where she handily defeated Councilor Murphy.
Similarly, the campaigns of Gov. Deval Patrick and Barack Obama won handily in Boston in 2006 and 2008, despite Mayor Thomas Menino's backing of gubernatorial candidate Thomas Riley and presidential candidate Hillary Clinton.
Yancey says the continuing trend of black and Latino candidates gaining support from white voters shows the city is moving beyond the racially divided politics of its past.
"I think it's a very positive statement where the city of Boston is," Yancey said. "The voters are way ahead of the elected officials."