Heavy D's grieving family: Rapper had 'heart of gold'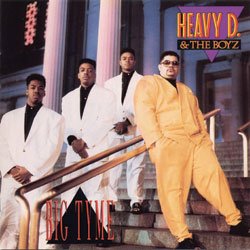 As authorities seek the cause of rapper Heavy D's unexpected death, his family released a statement saying they were "devastated" by their loss.
"The name and the success of Heavy D will always be synonymous with music forever. He never compromised his values and artistry, and encouraged his peers to do the same," the family said. "To us, Hev was the one who made us laugh, cry, sing, dance and turn a frown upside down. As a family, we are devastated by Hev's passing but through our faith in God and support from family, friends and fans we are comforted,  blessed and will remain  strong."
Determining the cause of Heavy D's death has been deferred pending the results of toxicology tests, the L.A. County coroner's office said Monday.
Officials said an autopsy was inconclusive and that it could take several weeks to determine a cause of death.
Ed Winter, a coroner's spokesman, said last week that no illegal drugs were found at Heavy D's Beverly Hills home, but that a doctor had prescribed him medication after the 44-year-old rapper experienced a cough.
The planned toxicology tests are common in cases in which a relatively young, healthy person dies unexpectedly. "We need to see what's in his system," Winter said. He also noted that the rapper had recently gone to London.
Heavy D was stricken Nov. 8 while returning to his Beverly Hills   condominium after a shopping trip and died a short time later at a   hospital, authorities said. He experienced breathing problems at his condo complex on Maple Drive and then collapsed, they said.
"Upon arrival, officers discovered a male, 44 years old, conscious, communicative, but having difficulty breathing," the Beverly Hills   Police Department said in a statement.
In their statement, the family said that for all of Heavy D's music success, he was most proud of his daughter.
"He had a heart of gold, was approachable, very personable and gave of himself willingly and unconditionally," the statement said. "Though Hev will most notably be remembered for his work both behind-the-scenes and in the forefront, he will always be remembered by us as a generous soul who remained humble and unselfish till his final days."
Heavy D was among a handful of hip hop stars from the 1980s who successfully established a lasting career. He was born Dwight Arrington Myers in Mandeville, Jamaica, and his parents moved the family to Mount Vernon, N.Y., in 1971. His mother Eulahlee was a nurse and his father Clifford a technician. He began putting together his own rap lyrics when he was 8 years old.
 He formed the Heavy D and the Boyz  at the dawn of the 80s boom in new jack swing — a pop-orientated fusion of hip-hop, dance grooves and RandB — and the group became the first to sign to Andre Harrell's Uptown Records, which was destined to become one of the most successful black music labels of the late 1980s and early 1990s.
Heavy D and the Boyz — D's cohorts were G-Whiz (Glen Parrish), "Trouble" T Roy (Troy Dixon) and Eddie F (Edward Ferrell) — released their debut album, "Living Large," in 1987. Its self-mocking title, and its spin-off hits "The Overweight Lover's in the House" and "Mr Big Stuff," set the tone for the comic streak in Heavy D's songs, in which he would cheerfully make fun of his own girth.
His follow-up album with the Boyz, Big Tyme (1989), triggered a splurge of hit singles including "We Got Our Own Thang," "Somebody For Me" and "Gyrlz, They Love Me," and the album reached No 19 on the Billboard 200 chart as well as topping the RandB/hip hop chart.
Heavy D began to expand the scope of his operations, not least by performing the rap on Michael Jackson's smash single "Jam" and appearing on his sister Janet Jackson's hit, "Alright." In 1997 he rapped on "Keep It Coming" from the blues legend BB King's album Deuces Wild.
In 1990, Heavy D had written and performed the theme song for the African American TV comedy show "In Living Color," and he pursued a sideline in acting, appearing on TV shows such as "Roc," "Living Single," "Tales from the Crypt," "Boston Public" and "Law and Order: Special Victims Unit." He was also able to make the jump into movies, appearing in "The Cider House Rules (1999)," "Big Trouble (2001)" and others. His most recent big-screen role came in the new Ben Stiller/Eddie Murphy vehicle, Tower Heist (2011).
Material from the Los Angeles Times and the Guardian contributed to this report.