Philadelphia boxing legend Joe Frazier dies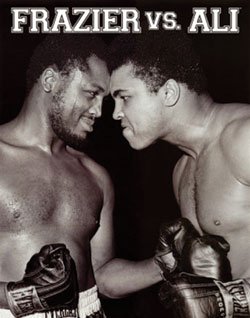 Frazier, who preferred to speak through his actions, called Ali a draft dodger and referred to him by his original name, Cassius Clay.
The two came to represent the wider rifts in the nation during a turbulent era.
"Joe was a champion - and Ali was a hero," Merchant recalled. "Joe was an ordinary guy, and Ali was an exceptional guy ... People lined up on both sides."
Frazier's 1971 win over Ali at Madison Square Garden was his crowning achievement.
"He said if I whipped him that night, he would get on his knees, crawl across the ring, and say: 'You are the greatest,' " Frazier said. "But he didn't do that. I think he was trying to get to the hospital."
He lost his world title in 1973 to George Foreman and never won it back. He lost twice after that to Ali, the last in the brutal "Thrilla in Manila" in 1975. Mr. Frazier ended his career with 32 wins, 27 by knockout, four losses, and one draw.
Frazier was born on Jan. 12, 1944, one of 13 children of Rubin and Molly Frazier.
Frazier had 11 children. His oldest son Marvis went 19-2 fighting as a heavyweight. Marvis is a preacher who helped run the Frazier gym.
After his boxing career, Frazier kept busy making guest appearances but was unable to capitalize on his name the way Ali and Foreman did. He took over the Frazier gym and became a coach and mentor to young boxers. Speaking to children about determination, he would say:
"Lots of times when I've done 4½ miles and don't want to go that other half, I say to myself: 'Nobody would know but me.' But brother, that's the last guy I want to fool!"
Philadelphia Inquirer