A raging battle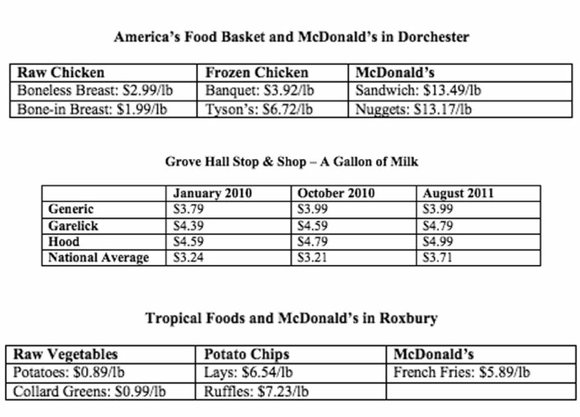 The Boston landscape reflects national trends. According to the Consumer Price Index, the cost of milk, bread, eggs, fresh chicken, apples and ground beef have all been going up. In July 2001, the national average for a gallon of milk was $2.93. Today, it has jumped to $3.65.
These growing food prices have a clear effect on many families' ability to afford healthy food and have become an "underlying systematic issue" in public health, according to Anne McHugh, division director of chronic disease at the Boston Public Health Commission. "Rates of food insecurity have gone up significantly since 2008," she continued. Food insecurity, or difficulty putting food on the table, affects 38.8 million people nationwide, including 16.2 million children, the U.S. Department of Agriculture estimates. "The utilization of food pantries has just skyrocketed. So, unquestionably, people's ability to eat healthy — and to eat enough — is directly correlated with income," McHugh said.
In a 2008 report, the Boston Medical Center found that Supplemental Nutrition Assistance Program (SNAP) benefits were insufficient to cover the cost of a healthy diet. The report compared the local cost of the Thrifty Food Plan, the federal government's standard for a "nutritious diet at a minimal cost," and the maximum local SNAP benefit and concluded, "In Boston, the average monthly cost of the Thrifty Food Plan (TFP) was $752, 39 percent higher than the maximum monthly food stamp benefit for a family of four. A family receiving the maximum benefit would need an additional $210 per month to purchase a healthy diet."
The Greater Boston Food Bank reached a similar finding — on average, SNAP benefits only last 2.6 weeks, leaving recipients vulnerable the remainder of the month.
This gap in coverage affects an increasing number of Bostonians. Between 2005 and 2010, the number of Boston SNAP participants grew an astounding 91.1 percent, from 57,052 to 109,049 people, a hike that represents both increasing economic need and greater government outreach. Nearly a quarter of black households in Boston receive SNAP benefits, according to the State of Black Boston 2010 report. The numbers are even higher for youth — 45.2 percent of all black youth, and 51 percent of Latino kindergarteners live with families that receive SNAP.
Although monthly SNAP benefits in Massachusetts have also increased in an attempt to keep pace with growing need — the maximum benefit for a family of four increased $80 between 2008 and 2011 — it is far from enough.
In the face of rising food prices and declining wages and employment, many are turning to emergency food assistance agencies. The Greater Boston Food Bank has witnessed a 23 percent increase in the number of people it has served since 2005 — in 2010, the GBFB served nearly 400,000 distinct individuals.
"We are a key part of the food chain in the city right now," said Paul Colligan, director of programs at the GBFB.
Many of these food pantry clients report facing the dilemma Anne McHugh called "eat, heat, or treat."