City Council candidates vow to increase turnout on Nov. 8
Yawu Miller | 11/3/2011, 11:17 a.m.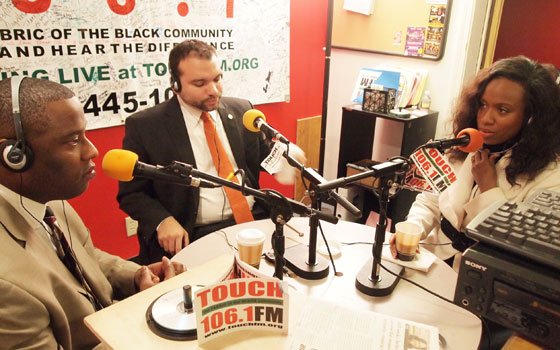 Ayanna Pressley has a problem with some voters in City Council District 7.
"I go out there a lot and people think that because I'm black, I'm running against Tito Jackson," she says. "I have to clarify for them the fact that he is a district councilor and I'm At-Large."
In fact, Jackson, Pressley, fellow At-Large Councilor Felix G. Arroyo and District 4 Councilor Charles Yancey are working together. Monday morning, the councilors went on the air at Touch 106.1 to drive the message home.
"I'm not just asking people to vote for me, but also for my colleague, Ayanna Pressley," Arroyo tells the listeners. "I'm asking that two of your votes go to me and Ayanna."
The councilors' appearance at the radio station during a weekly Councilor's Corner segment hosted by Jackson is part of an ongoing schedule of joint campaign appearances they are holding.
The quartet of councilors of color are holding joint visibility events and conducting get-out-the vote efforts in the black and Latino communities that make up their strongest base of voters.
"We're really making sure that our community, which is at the center of Boston, comes out to vote and flex our political muscle," Jackson says after the radio segment. "Every vote counts."
The joint campaign effort harks back to the 2005 and 2007 Team Unity campaigns in which Yancey and former councilors Felix D. Arroyo, Chuck Turner and Sam Yoon made joint campaign appearances.
This time around, the councilors say, two of them are facing what many expect will be a tight race. With the reappearance of former top vote-getter Michael Flaherty in the race, one of the four incumbents could well be ousted.
Pressley and Arroyo, both in their first terms in office, are generally seen as the most vulnerable.
Flaherty and incumbents John Connolly and Stephen Murphy depend heavily on the predominantly white wards and precincts that surround the black community.
The councilors of color, on the other hand, draw from a voter base that includes Yancey's District 4 in Dorchester and Mattapan and Jackson's District 7, which includes all of Roxbury and parts of the South End, Dorchester and Jamaica Plain.
That base of black and Latino voters tends to turn out in lower numbers than in the white community. And in a year where there was no preliminary balloting in the At-Large race and no mayoral race, many are worried turnout will be lower than in past years.
Those low-turnout communities are at the center of much of the work the councilors perform in the Council Chambers.
"We're different genders, we have had different life experiences and have different perspectives," Arroyo says. "But together we've been working on issues that are vital to the communities we come from."
Arroyo cites issues ranging from youth jobs, restoring funding for youth outreach workers, preventing cuts to community centers and libraries and pushing for more diversity in the police department.
The councilors' close working relationship on the council has lead to a close campaign relationship, according to Arroyo.
"We've been campaigning together in Dudley Square and Grove Hall, at black and Latino churches and radio stations," he says. "We're supporting each other inside City Hall with policy and outside City Hall with campaigning."
While the schedules and campaign events are shared, sharing of resources is limited. Each councilor's campaign has printed its own literature and draws from its own base of volunteers to distribute flyers, call supporters on election day and drive voters to the polls.
Their hope is that by driving increased turnout in their own respective bases, their efforts will benefit each other. That could be particularly true for Pressley and Arroyo, each of whom represent the whole city but benefit from a loyal voting base in communities of color.
"We need to flex our political muscle to show that we are the majority," Jackson tells the listeners on Touch 106.1. "This is our time. This is our day. And that day is November 8."