Company One's 'Red and Brown Water' a hit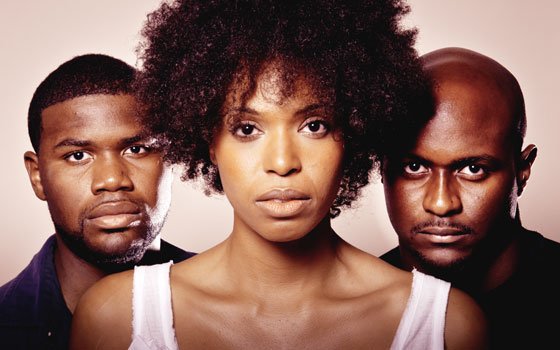 The prodigiously talented Hampton Fluker, a junior at Boston University's School of Theatre, plays Elegba, a boy whose dream of blood and water gives the play its title. Elegba comes in to beg Mama Moja for candy and describes his dream, in which Oya floats, bleeding but not in pain. Mama Moja gives him the candy and tells him, "It mean you becoming a man lil Legba, my Oya a woman."
Taking his leave, Elegba says, "Lil Legba begins to walk away like the half moon in the morning."  
In the course of the play, Fluker is alternately ferocious and tender as he portrays Elegba morphing from a bawling child and a crazed, candy-obsessed kid into a joyful father and at times, an oracle.
In a later scene, seconds after sassing Oya's aunt, he says, "A spell comes o'er Legba." His face turns pious and, his white hoodie growing translucent in the light, in a near-falsetto voice he sings a prayer for Oya.
Nine actors perform the play's 11 parts. All members of the terrific cast are black except Jerem Goodwin, who plays the shopkeeper and the Man from State, who offers Oya an athletic scholarship.
Michelle Dowd's magnificent Mama Moja lingers as a presence long after her act one appearance. And Aunt Elegua (Juanita A. Rodrigues) is a Mardi Gras inside a plus-size dress.
Sizing up the coupling of Oya and the handsome Shango, Aunt Elegua says, "So yall sweet strong on each other or is this a bitter honey suckle yall sipping on."
The playwright also has fun with a pair of mean girls, the glamorous Shun (Natalia Naman) and her pal Nia (the versatile Michelle Dowd), whose clichéd pettiness offers comic relief.
As the slick, womanizing Shango, Chris Leon injects enough sincerity and sweetness into his character to make him a believable candidate for Oya's desire.
In the role of Aunt Elegua's nephew Ogun Size, Johnny McQuarley embodies a good guy who only wants to take care of Oya. His Ogun stammers but then finds his voice and with the eloquence of a true heart speaks of having "a home inside me" for her.
McCraney gives each character her or his own language in body and speech. Shango's signature caress of Oya's ear, and phrases like "How could she not?" repeat and build, and at times take devastating new turns of meaning.
Only after the performance did I read in the program that McCraney draws the names of some characters from the Orishas, dieties in the Yoruba mythology that slaves brought from West Africa to America. So powerful is the interplay of myth and daily life on stage that this information amounted to an interesting footnote.
Performing briefly as a DJ in this production, James Milford joins Fluker and McQuarley in the three-man play that comes next, "The Brothers Size." The entire cast minus Goodwin performs in the final play, "Marcus; or the Secret of Sweet."
After Company One's superb introduction to McCraney's trilogy, I can't wait to be back in San Pere, La., as it is conjured once more on the tiny stage of the Plaza Theatre.