Warm Irish Welcome for O'Bama
Associated Press | 5/25/2011, 4:46 p.m.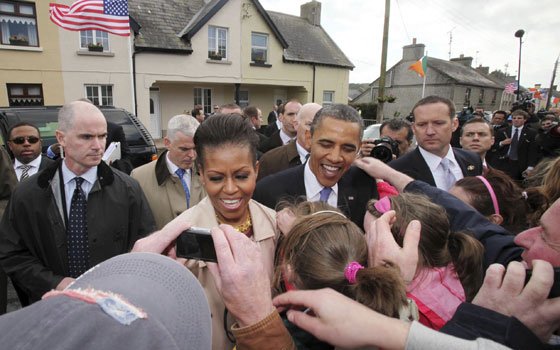 Majella Moloney, a County Offaly native who moved to Dublin to attend Trinity College, said she was proud to see the American president visit her home county and later address thousands of Dubliners packed into the College Green at her alma mater. "Brilliant," she said. "He was impressive, positive and upbeat. He spoke to everyone who had family and emigrated to the States. Color and country of origin weren't an issue – it was a universal message."
"The whole country has gone giddy with delight," said Moloney. "In the midst of the deepest economic downturn in a while, his visit to Ireland has given us an uplift that will certainly last awhile."
In his remarks in Dublin, Obama celebrated the bonds between the U.S. and Ireland, told the story of his ancestor's decision to leave his homeland at age 19, and joked about his own Irish origins. "I'm Barack Obama, from the Moneygall Obamas," he said to the crowd, "and I've come home to find the apostrophe that we lost somewhere along the way."
The president poked further fun at himself in a story about trying to get a slot to march in Chicago's St. Patrick's Day parade during his tenure in the state senate. "The problem was not many people knew me or could even pronounce my name. I told them it was a Gaelic name. They didn't believe me," said Obama. "So one year a few volunteers and I did make it into the parade, but we were literally the last marchers. After two hours, finally it was our turn. And while we rode the route and we smiled and waved, the city workers were right behind us cleaning up the garbage. It was a little depressing. But I'll bet those parade organizers are watching TV today and feeling kind of bad – because this is a pretty good parade right here."
Looking back in history, Obama cited the friendship forged between Daniel O'Connell, "The Great Liberator" who agitated for Irish civil and political rights in the 19th century, and former slave Frederick Douglass, who travelled to Ireland to meet O'Connell and later hosted a rally at Faneuil Hall where the Irish politician denounced slavery. "His time here, Frederick Douglass said, defined him not as a color but as a man. And it strengthened the non-violent campaign he would go home to wage."
Obama's visit, cut short by volcanic ash clouds from Iceland, forcing the president to fly to London at the close of the day's events, followed by less than a week a state visit by Queen Elizabeth II, the first by a British monarch since before the Irish Rising of 1916. Travelling under heavy security, the queen visited a memorial to pay tribute to the heroes of Irish freedom and apologized for mistakes made in the long history of British occupation of Ireland.
"The queen's visit was very moving," said Moloney, "and I'm glad it went well, but it didn't generate this kind of excitement. Everyone I know is either out in the street or glued to the telly, watching the president's every move and listening to his every word."
Mary Brereton, 68, said she was moved by America's first black president saying in Gaelic to a nation suffering from growing debt and unemployment, "If feidir lin" – meaning, "We can do it" - and his good cheer greeting and hugging the people of Moneygall. "He really engaged with us," she said. "The security people were trying to get him out, but you could tell he was really enjoying himself."
Her husband John, a retired utility worker who fed dried peat into a furnace to generate electricity, said the visit reminded him of another African-American celebrity who came to Ireland to claim his heritage – boxer Muhammad Ali, who defeated Al "Blue" Lewis in Dublin's Croke Park in 1972 and returned in 2007 to meet his Irish relations in County Clare. On a visit to Ennis, in the west of Ireland, Ali walked through the home of his great-grandfather, Abe Grady, and shadow-boxed with villagers on the street.
"The whole country loved Ali," said Brereton. "The fact that he claimed Irish descent made us love him even more. Just like Obama."
Material from the Associated Press was used in this report.