Redrawing political maps takes a first step
Yawu Miller | 5/18/2011, 12:10 a.m.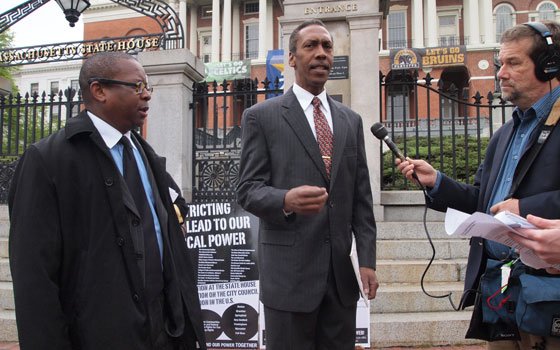 Republican state Rep. Dan Winslow and attorney Jack Robinson fired a shot across the bow of Massachusetts Democrats last Thursday with a pair of proposed congressional district maps they say will set a tight legal standard for the Legislature's Joint Committee on Redistricting.
One of the two maps drawn by their organization, called Fair Districts, created what Winslow and Robinson say would be the first so-called majority-minority congressional district in Massachusetts.
Last Saturday, at a hearing at the Joseph Lee School in Dorchester, black, Latino and Asian activists turned out to testify at a Redistricting Committee hearing, many calling for districts that would maximize chances for non-white candidates to win elections.
While the Legislature won't likely release maps outlining re-drawn congressional and state House and Senate districts until September at the earliest, blacks, Latinos, Asians and Republicans are weighing in early and forcefully in a process that could expand or limit the political opportunities in their communities for the next 10 years.
Local and state officials are required by law to re-draw districts every 10 years following the release of U.S. Census data. As the state's population inevitably expands, contracts or shifts from one region or another, the Legislature must draw districts that ensure that every district has an equal number of residents to meet the one-person, one-vote standard in the U.S. Constitution.
Black, Latino and Asian activists have historically resorted to legal action to compel state and local government in Massachusetts to draw district lines that do not weaken the voting power of their communities.
Ten years ago, a coalition of activists filed a lawsuit against the Legislature that successfully blocked then-House Speaker Thomas Finneran from shedding precincts from the predominantly African American neighborhoods in his district while acquiring precincts in the predominantly white town of Milton.
The court ordered the House to re-draw the district keeping the African American population intact. Finneran later left his House seat after he was convicted of lying under oath about the redistricting process.
While the 2001 lawsuit prevented Finneran from making his former district whiter, activists were unable to expand opportunities for blacks, Latinos and Asians in Boston to win House seats. Of the 23 House and Senate districts in Boston, more than two thirds are represented by whites, who make up less than half of the city's population.
Many believe the state could re-draw Boston's districts in a way that creates more districts with non-white majorities.
"We've determined that we will be a driver in this process and that we will be open to any proposals that produce the maximum number of seats for the black community," said Kevin Peterson, who heads the Massachusetts Black Empowerment Coalition.
Peterson was present at Winslow and Robinson's press conference, where the duo showed a map that drew a district which included Boston, minus South Boston and the predominantly white easternmost part of Dorchester and add in Everett, Chelsea, Revere and Lynn.
People of color would make up 56 percent of the district's voting-age population. It's not clear what percentage of them would be ineligible to vote because of citizenship status.