Gov. unveils youth initiative to curb street violence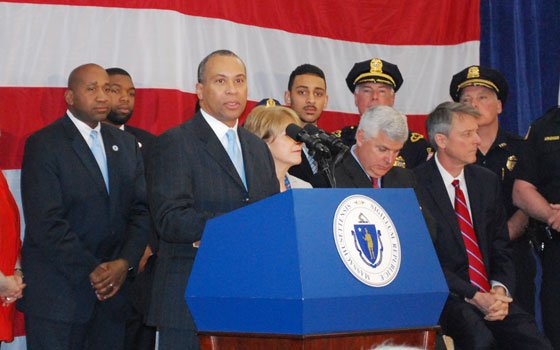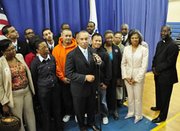 Gov. Deval Patrick unveiled his new plan last week to curb youth violence throughout the state. As part of the "Massachusetts Safe and Successful Youth Initiative," the governor said that he plans to file legislation for tougher gun laws and will seek an additional $10 million to fund local partnerships.
"This plan centers on the belief that peace in urban communities is achievable," Patrick said as he inaugurated the program at the Boston Centers for Youth and Families' Mildred Avenue Community Center in Mattapan. "We must stop children from killing children, ending the despair felt by too many young people and the fear of violence felt by everybody else."
Violence remains a critical public health concern across the state and the country, particularly for black youth. While violent crime is the second leading cause of death for all 10-24 year olds nationwide, homicide remains the top cause of death among black males in this age group, according to the Centers for Disease Control and Prevention. In 2008, blacks accounted for 48 percent of all murder victims, even though they only comprise 13 percent of the total population.
Local statistics paint a similar picture. According to the Boston Public Health Commission, an astounding 56 percent of black Bostonians report having a close family member or friend killed by violence. Fifty-two percent of Latinos report the same, while only 17 percent of whites have been impacted by violence in this way.
The homicide rate in Boston has more than doubled in the past 20 years. In 1999, it stood at an average of 4.3 deaths per 100,000 people, and by 2002 jumped to 10.4 deaths. The next year saw a marked decline to 6.4 deaths, but then steadily increased to nine average deaths in 2008. But the black homicide rate towers above this citywide average — in 2008, it stood around 30 deaths per 100,000 people — and is the highest of any race or ethnic group.
Similarly, blacks have the highest rate of non-fatal assault-related gunshot and stabbing wounds in Boston, at 49.5 per 10,000 people, compared to whites, whose rate stands at just 3.3 wounds per 10,000 people. Among these victims, youth ages 15-24 of all races comprise more than half, 51.2 percent.
 In light of these grim figures, Patrick's "Safe and Successful Youth Initiative" will focus on several goals: deterring youth impacted by violence; creating more peaceful communities; facilitating community re-entry for offenders; and getting guns off the street.
"We have made substantial progress in working with Governor Patrick and Speaker DeLeo to combat youth violence but the uncontrolled violence that is still threatening our cities and towns is unnerving," State Senate President Therese Murray said. "I applaud Governor Patrick for this effort to proactively target the root of the problem and hope that these additional resources will serve as a support system for our neighborhoods that continue to battle an upsurge of violence in their communities."
Massachusetts will manage a multi-million dollar grant program aimed at filling gaps in social services for "high risk" young men throughout the state, including trauma informed case management, intensive supervision, employment, education and health care. The Patrick administration will also file legislation for stricter gun laws and propose several other measures to tighten existing gun laws, including defining three new gun-related crimes.