World-renowned dancer Judith Jamison and pioneering journalist Maria Hinojosa shared their stories during the recent Simmons Leadership Conference
Rachel Banks | 5/11/2011, 11:36 a.m.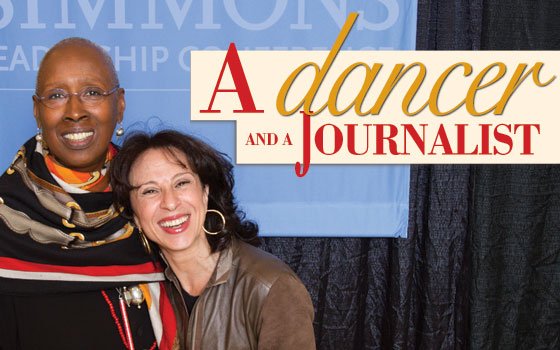 Jamison: There are places we can go in tutus now because of my teacher Delores Brown who in the fifties didn't have a place to go. Black women were not touched by white people in New York City when they had partnering classes, they wouldn't partner them. That brought back too much.
Like what?
Jamison: It brought up all the racism that was going on.
My first ballet teacher Marion Cuyjet was black but looked white as the driven snow. Her skin was white and her eyes were green and she had red hair so when it came to Philadelphia in the fifties she was allowed to rent space down there that black people couldn't rent and all those little black children would come running after.
She moved seven times because they weren't having that, and they figured out something that would not violate civil rights. Still to this day there are places where black children can't study dance.
We always have to find another way, everybody, not just black people. No it's not easy and you might not find anything right away but don't shut yourself down.
Now that you're retiring —
Jamison: Re-wiring — if I I'm retiring I'm going fishing in Florida. I'm still fundraising and teaching. I just took the crown off this head and put it on somebody else. If I'm on this earth for as long as I'm supposed to be I still want to see the Alvin Ailey American Dance Theater soaring.
What stands out to you the most about your career?
Jamison: I can drop a whole 'lotta things but the beauty of it is that I can look back on it. I have friends that aren't here that had wonderful careers but I can look back and look forward at the same time.
What was your life like growing up and how has that shaped who you are now?
Hinojosa: I had a lot of doubt — could I do this? I have felt a lot of responsibility to speak for those who don't have voice. I came from not a poor family, we were incredibly well off, but I did end up going to a very good school and I think that that's where I understood that I had a role to play. There were many other people who were very disadvantaged who looked like me, sounded like me, had my similar background, but were truly invisible.
How do you feel about the role of people of color in the media?
Hinojosa:It's a battle right now. I can't believe that this many years later into my career there's a lot of resistance. There is much more diversity but the question is whether or not there really is an understanding of the media covering us as a country in terms of understanding our diversity. And I think that in some ways pop culture gets it better than even the news media, and that's kind of strange and it has been said that the media, the Fourth Estate, is the one that will pose the most resistance to change. Fortune 500 companies will actually understand diversity more so than members of the media, and how could that be?