'... A few small steps'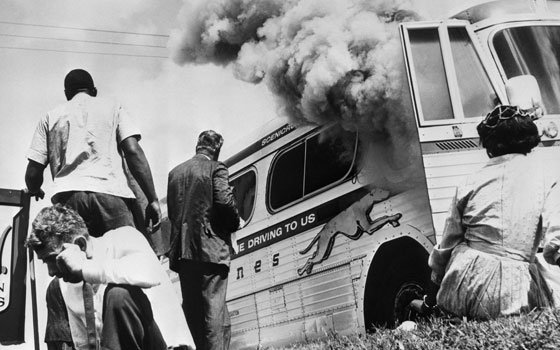 But one experience from his youth particularly moved Lafayette to take action. He was boarding a streetcar with his grandmother — and at that time, blacks had to pay the driver up front and board in the back. But some drivers would drive off with their money before they could board, so Lafayette and his grandmother would sprint to the back of the streetcar and quickly hop on board. One day, however, his grandmother tripped and fell; he then stood in the street stretching — one hand to keep the streetcar door open, the other to help his grandmother.
 The moment left him thirsting for justice — immediate justice that his grandmother would experience, not just his grandchildren.
As a college student at the American Baptist Theological Seminary in Nashville, Tenn., Lafayette joined in sit-ins at local movie theaters and lunch counters. The success of these non-violent actions instilled in him the "motivation and confidence" to later become a freedom rider, leaving him with "no question" that the rides would also prevail.
And they did, ensuring that Lafayette's grandmother would never face the same humiliation she did that day on the streetcar.
Now, Lafayette says he hopes the "Freedom Riders" film will inspire the next generation, what he calls the "curious generation." Knowing the history he helped create 50 years ago is critical to combating the problems of today, he explained. "Things don't have to remain the same," and the freedom rides are powerful proof of that. While this history largely remains "another world" to the youth today, he believes the film "has done a tremendous job of depicting" it.
"I can't see it enough," Lafayette said of the film. "It's an important contribution to humanity."

Marking the 50th anniversary of the original freedom riders, the film "Freedom Riders" will premiere on Monday, May 16 at 9 p.m. on PBS. For more information, visit www.pbs.org/freedomriders.