Hip hop play promotes peace, bridges age gap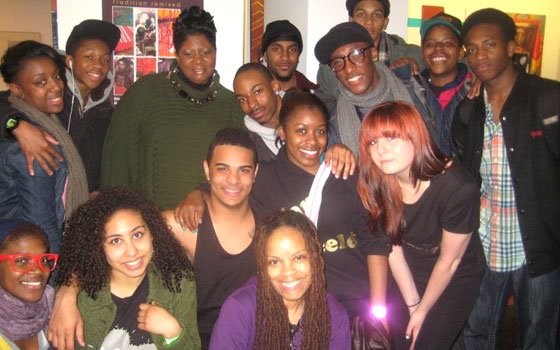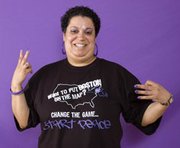 Cindy "Mother Hip Hop" Diggs plays the role of Ebony Scrooge in "Hip Hop 9.1.1." (Aram O. photo)
On the eve of Easter Sunday, Cindy Diggs, known to many around Boston as "Mother Hip Hop," stood at the center of the stage in Roxbury Community College's Media Arts Center and declared that day to be the beginning of the resurrection of Boston's urban community.
She had just finished playing Ebony Scrooge, the lead character in "Hip Hop 9.1.1.," a theatrical production that took the audience "back to the future" of Boston hip hop in hopes of educating and empowering people of all ages to use hip hop music and culture to unite and uplift the community. Paying homage to an art form that constantly rebirths the old into something new, the cast of nearly 80 rolled the figurative stone away, using music, dance and drama to shed light on hip hop's vital role in creating and restoring peace.
Based on the Dickens' classic "A Christmas Carol," the play opens with Ebony voicing frustration with the lack of support for her efforts to bring peace back to a city ravaged by violence. On the eve of what she promises will be her last community empowerment event, she falls asleep but is awakened throughout the night by visits from the Ghosts of Hip Hop Past, Present and Future, who take turns showing her how hip hop has and can continue to play a vital role in the community.
The Ghost of Hip Hop Past (Dilania Tirado) takes her back in time to the 1980s and early 1990s, when hip hop was still in its infancy and Ebony was working tirelessly to teach local hip hop artists the ins and outs of the industry. The Ghost reminds Ebony of all the events, including a music conference panel featuring music industry maven Wendy Day (Darcie-Nicole Wicknick) and Epic Records marketing and promotions director Cliff "C1" Braithwaite (playing himself), she hosted to help educate artists on how to get their music heard and CDs sold.
Local hip hop artist and street worker/mentor Will Harvey's performance as The Ghost of Hip Hop Present had the audience doubling over with laughter as he delivered witty lines about milking hip hop — now a global cash cow — for all it's worth. Dressed in gaudy dollar-sign sunglasses and a matching gold chain, his message starts out silly, but gets serious when he gives Ebony a glimpse of how this "get money" mentality has devitalized today's youth, creating a state of emergency (and hence, the play's title). In a particularly powerful scene, young girls clad in prison jumpsuits perform a dynamic dance routine set to Michael Jackson's "They Don't Care About Us," illustrating how institutionalized oppression, drugs and lack of education have put youth in mental, physical and emotional prisons.
The Ghost of Hip Hop Future, played by phenomenal young dancer Shaquan Reed, shows Ebony that the next generation has the skills, creativity and passion needed to restore peace in the streets. He presents her with riveting performances by youth dance crews The Boston Tap Company, Thee Slap Bracelets, the Hard Rock krumpers, the Say No Rocket jerkers/dougies and solo routines by Reed himself, whose captivating command of the stage, fluid movement and mastery of several different dance styles easily won the crowd over.