Jackson ready to work for constituents in District 7
Yawu Miller | 3/31/2011, 7:37 a.m.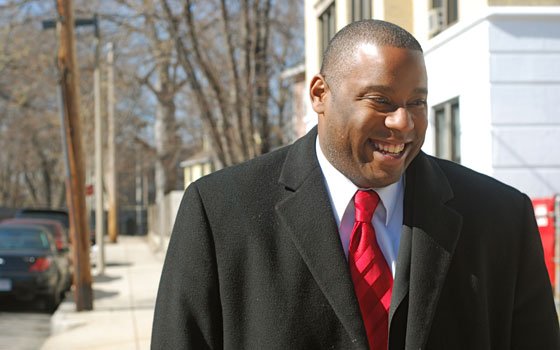 If Jackson's campaign is any indication, his approach to fighting for jobs may be more collaborative than Turners. His campaign army of 200 volunteers and paid staff included loyalists to both Gov. Deval Patrick and Mayor Thomas Menino. The donors he tapped, who contributed more than $107,000 to his campaign in the space of just two months include high-profile lobbyists, big-shot developers and Democratic  party loyalists whom Jackson may have tapped through his association with Gov. Patrick, for whom he served as political director during last year's campaign.
"My ability to attract people and bring resources to my campaign is a reflection to my ability to secure resources to our community," Jackson said.
Jackson says his affable relations with City Hall and the Statehouse will not compel him to put the aims of City Hall or the governor's office above those of his constituents. He's well aware of the delicate balance needed to negotiate the needs of a community that votes in higher percentages for the mayor than any other in the city and that voted out former Councilor Anthony Crayton for being too close to him.
Jackson says he will not hesitate to challenge City Hall if it's in the best interests of the district.
"I'm not scared of a fight," he said. "But the objective of any fight has to be to make sure we can deliver for our community."
Ultimately, Jackson says, he would like to see economic development that benefits the residents of District 7 who most need it.
"I would love to see the community benefit from a cluster of businesses along Melnea Cass Boulevard that employ hundreds of people," he said. "I want to see all young people in this city have the opportunity to get a world-class education. I would like to see a community with neighbors who look at the people next door as neighbors, not just as the people next door."