Jackson ready to work for constituents in District 7
Yawu Miller | 3/31/2011, 7:37 a.m.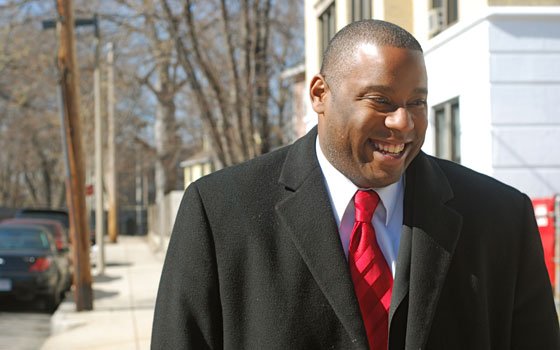 Tito Jackson got his start in community activism visiting construction job sites with his father, Herb Kwaku Zulu Jackson, whose Greater Roxbury Workers Association helped blacks and Latinos secure jobs in the white-dominated building trades.
Years later, people his father helped still stop Jackson on the street.
"One man came up to me and said, 'Your father saved my marriage and my life,' " Jackson recalls. "He hadn't worked in two years. He said my father reached into his pocket and gave him $100 and said, 'show up tomorrow and we'll get you a job.' "
Now that Jackson has prevailed in the special election to replace former District 7 Councilor Chuck Turner, he plans to make securing jobs for District 7 residents and economic development his prime areas of focus. The residents of District 7 have an unemployment rate twice that of the city as a whole, Jackson points out.
"Folks in our community need economic development, jobs and economic rejuvenation," he said.
Jackson's landslide victory in last week's special election came as little surprise, following on the heels of the February preliminary in which he garnered 67 percent of the vote in a six-way race. Last week, he won 83 percent of the vote, beating local businessman Cornell Mills handily.
Jackson will take the oath of office Saturday during a ceremony at Hibernian Hall and start work in City Hall Monday. He will serve as the fifth representative of District 7 since the council switched to district representation in 1984.
Jackson was able to pivot off a fifth-place finish in the 2009 race for an at-large seat on the council, drawing from that experience and the pool of campaign volunteers he developed to prevail in a two-month push for the District 7 special election.
"We had standouts every Tuesday and Thursday," he said. "It was cold. It was a tough winter. We made sure the voice of the community was heard by knocking on as many doors as we could and by going to as many community meetings as possible."
Monday, Jackson and several staff members were in the campaign's Tremont Street office finalizing plans for Saturday's inauguration, which kicks off at 1 p.m.
He will take office just days after Turner begins serving a three-year federal prison term for allegedly accepting a $1,000 bribe from an FBI informant. While the newsmedia has characterized Jackson as an alternative to Turner's confrontational leadership style, Jackson sees himself continuing Turner's work in securing economic justice for a community that has often been excluded from the economic mainstream.
"Chuck Turner's legacy is one of someone who served his community for more than 40 years," he said. "He fought for jobs and the rights of his community. I view him as someone who dedicated his life to the betterment of this community."
Turner, a close associate of Jackson's father, authored the Boston Resident Jobs ordinance, which mandated that 50 percent of publicly funded construction jobs go to Boston residents, 25 percent to blacks and Latinos and 10 percent to women. The ordinance was a key tool Jackson's father used to help blacks and Latinos secure jobs.